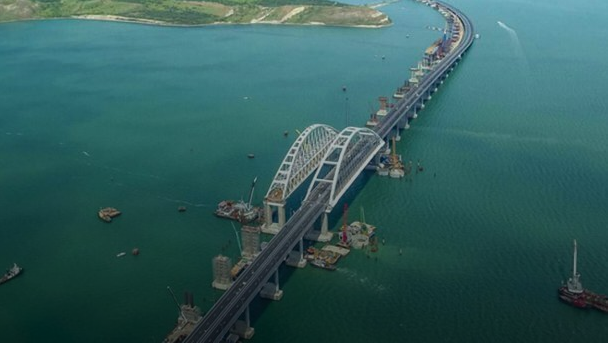 twitter.com/Cold_winter_sun
Blogger Stantsia Krym ("Crimea Station") says the illegally built Kerch Strait Bridge in Russian-occupied Crimea, which connects Russia-occupied Crimea with Russia's Krasnodar Krai, has been sagging more and more, which leads to serious environmental problems.
Read alsoRussian occupation forces build first rail track on Kerch Strait Bridge (Photo)
"It seems the bridge was created not for convenience, but to destroy everything around. There are constant incidents with it. Putin's project has already affected the Black Sea. The bridge is sagging more and more, and the depth of the strait is decreasing, which results in huge environmental problems," the blogger wrote on Twitter August 3.
As UNIAN reported earlier, Russia started building the Kerch Bridge back in April 2015. On May 15, 2018, the motorway part of the bridge was opened, connecting the Russian Krasnodar Krai with occupied Crimea. Railway traffic on the bridge will reportedly be launched on December 9-10.