Because of bureaucracy, Ukraine loses 3.6 km of US defensive barriers that could have protected Mariupol
The Interior Ministry of Ukraine has failed for two months to sign an agreement with the U.S. producer of fortifications Hesco Bastion Inc., which sent a shipment of barriers for the defense of Mariupol on the order of the ministry, a representative of the Hesco-TMM program, Ihor Stokoz, wrote on his Facebook page on Tuesday.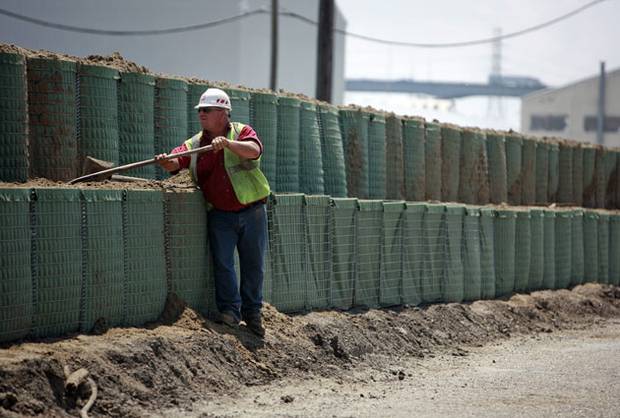 REUTERS
According to Stokoz, during this time, a total of 11 containers with 3.6 km of defensive barriers were in port, and the Ministry of Interior and the National Guard conducted bureaucratic procedures. As a result, on April 20 the company sent the barriers to Saudi Arabia due to the violation of the terms of its contract with Ukraine.
"They were reserved for the National Guard. In early February, after the demonstration, Interior Minister Arsen Avakov and his deputy Serhiy Chebotar who were at the site said that Mariupol needed them urgently," Stokoz said.
"Yesterday, Hesco said that in connection with the violation of all the terms, they canceled our quotation and sent the defensive barriers to the Saudis. Now it is impossible to get them quickly, because a new batch will take some period of time to produce. But I'm not sure that we could do anything together with the Interior Ministry," he said in an interview with Ukrainian online newspaper Ukrainska Pravda.
As reported earlier, in February Arsen Avakov took part in the presentation and testing of Hesco's defensive barriers on the proving grounds in the village of Novi Petrivtsi. After that, he said that Ukraine needed such defensive barriers.
"I think we will cooperate with Hesco and those people, who will produce such barriers on the territory of Ukraine. And we will do this very quickly," Avakov said.
Hesco Bastion Inc. is a supplier of fortifications to the U.S. Department of Defense, the United Kingdom, NATO and the UN.
If you see a spelling error on our site, select it and press Ctrl+Enter