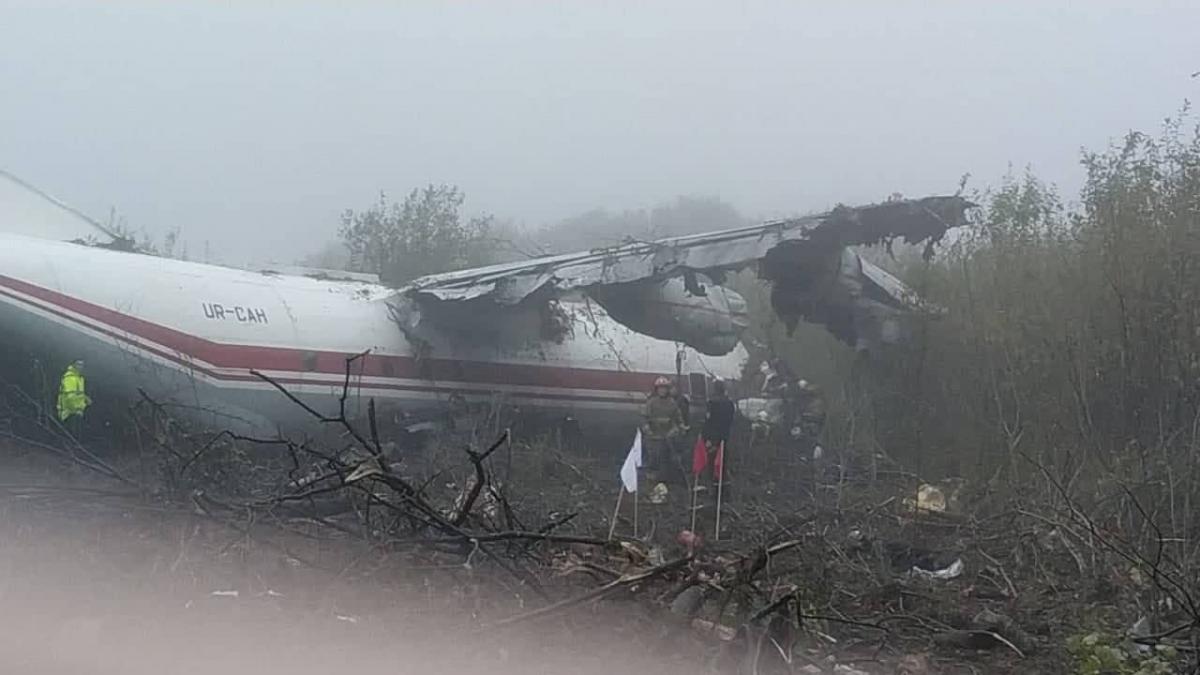 The plane made an emergency landing near the cemetery in the village of Sokilnyky / Photo from lv.dsns.gov.ua
An An-12 military aircraft has made an emergency landing in Lviv region, western Ukraine.
Ukraine's State Emergency Service in Lviv region has said it received a report at 07:10 Kyiv time on October 4 that the An-12 transport aircraft had disappeared from radar when approaching Danylo Halytskyi International Airport Lviv at a distance of 13.7 km.
"At 07:29, one member of the crew got in touch and said the An-12 plane had made an emergency landing. At 07:46, the An-12 plane was found at a distance of 1.5 km from the runway. The plane was not burning. An operation is under way to pull the crew from the damaged aircraft," the service said, adding 41 workers and seven units of special equipment were involved.
Meanwhile, member of Lviv City Council Ihor Zinkevych wrote on Facebook there were eight people on board the plane – seven crewmembers and one passenger. According to him, five people were dead and three were alive.
In turn, the airport's press service said the aircraft had been en route from Spain's Vigo to Turkey's Istanbul and was expected to stop over in Lviv for refueling. It disappeared from radar immediately before landing.
"At 06:45, the plane disappeared from radar, after which the airport's employees together with rescuers began a search and rescue operation," the report said.
Chairman of the State Migration Service of Ukraine Maksym Sokoliuk, in turn, said on Facebook that there were seven crewmembers on board the plane An-12 UR-CAH (flight UKL4050) of the Ukraine Aeroalliance ("Ukraine Air Alliance") Airline. The plane was flying from Vigo (Spain) to Lviv (Ukraine). According to him, the plane made an emergency landing near the cemetery in the village of Sokilnyky.  "There are deaths, according to a preliminary report. The plane had to make an emergency landing because it ran out of fuel. A probe into the incident has begun," Sokoliuk added.