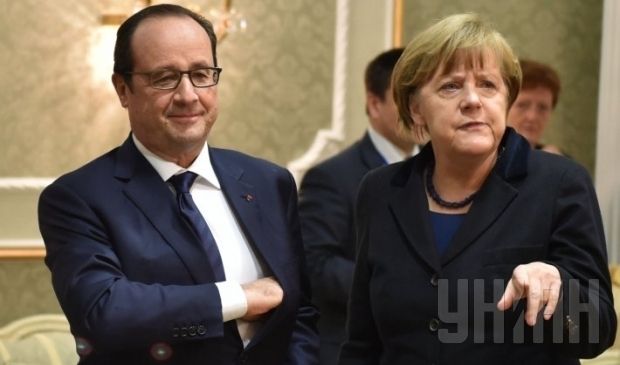 UNIAN
Following the recent comments from European diplomats and politicians, the EU is seeking to ease tensions with Russian President Vladimir Putin - even at the cost of irritating Kyiv.
European diplomats are willing to admit that the separatists have violated the ceasefire more often than the Ukrainian military, but are calling on Ukrainian President Petro Poroshenko to adhere to the agreements reached and fulfill the commitments regarding political reform. Particularly notable is the position of German diplomats, who are insisting that Kyiv should be ready for more concessions.
"German officials have been negotiating with both parties to the conflict, but in the first place - with Kyiv. The reason is if the Ukrainians do not do what is necessary, the Russians will always have the chance to renew the conflict," noted the head of the program on Eastern Europe and Central Asia at the German Council on Foreign Relations, Stefan Meister.
During President Poroshenko's official visit to France last week, French President Francois Hollande also stated that "full implementation of the Minsk Agreement" was expected from Kyiv.
The UK, which is inclined to support the tough position of the United States towards Moscow, is urging Ukrainian officials to fulfill their part of the deal and "not to give Russia a reason for criticism."
In the opinion of the Wall Street Journal, the current Ukrainian-European summit in Kyiv is held on the background of a serious crisis of confidence between Kyiv and its Western partners. While over most of the past year the EU and Ukraine deepened relations in the face of the Russian aggression, after the conclusion of the February Minsk Agreement serious tensions emerged in relations between the two sides.
On the European side there are fears that Ukraine's commitments to improve the economic and political environment within the country will not be fully fulfilled. Europe has fears that over time this may lead to a worsening of the economic problems of Kyiv, causing a new crisis in relations with Russia.
In turn, Ukrainian officials are not hiding their disappointment about the unwillingness of the EU to promote a visa-free regime, maintain sanctions against Russia and conclude a trade agreement.
"Everyone is in wait-and-see mode. The West is waiting for a clearer picture about whether Ukraine is seriously pursuing reforms and will be a real partner. And of course, everyone is waiting to see whether Russia will advance in the Donbas," said Ulrich Speck, EU foreign policy expert at the Carnegie Center think tank.