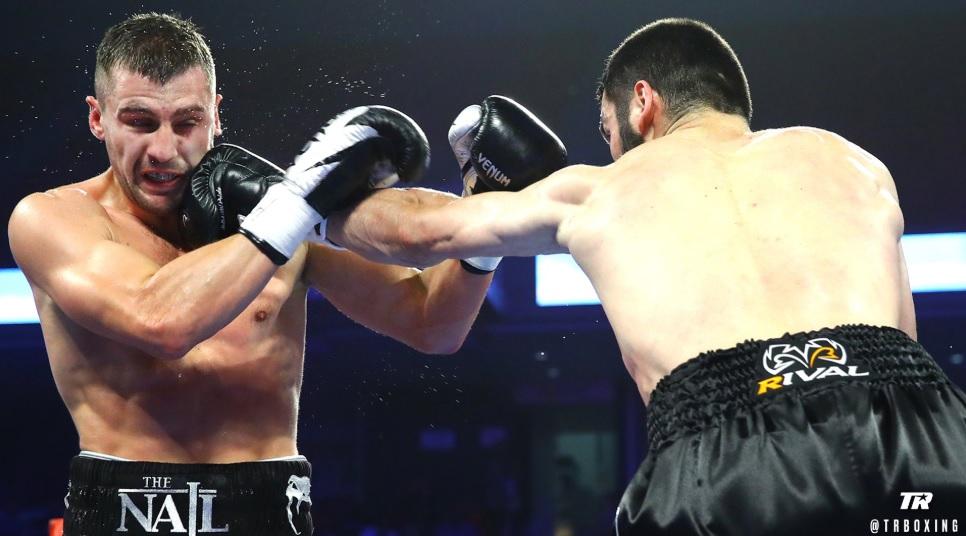 Top Rank
Oleksandr Gvozdyk took Artur Beterbiev's vaunted power for as long as he could Friday night.
Beterbiev eventually wore down the previously unbeaten Gvozdyk, dropped him three times in the 10th round and stopped him in their light heavyweight title unification fight. Referee Gary Rosato called an end to the scheduled 12-rounder at 2:49 of the 10th round, once Gvozdyk went to a knee for the third time, BoxingScene.com reported.
Read alsoOleksandr Usyk arrives at heavyweight, stops Witherspoon in seven – media
The Russian-born, Montreal-based Beterbiev (15-0, 15 KOs) retained his IBF light heavyweight title in an ESPN main event televised from Temple University's Liacouras Center. The rugged knockout artist also won the WBC belt from Ukraine's Gvozdyk (17-1, 14 KOs), the most accomplished opponent Beterbiev has faced since he turned pro in June 2013.
Gvozdyk was ahead on two of the three scorecards entering that fateful 10th round.
Judges John McKaie (87-84) and Ron McNair (86-85) had Gvozdyk in front through nine rounds. Judge John Poturaj had Beterbiev ahead, 87-83.
After a rough ninth round, Gvozdyk came out firing at the start of the 10th. It didn't take Beterbiev long, though, to hit Gvozdyk with a right that made him hold.
Gvozdyk went to the canvas early in the 10th, but Rosato ruled Beterbiev shoved him down by the back of his head.
Beterbiev's punches made Gvozdyk take a knee later in the 10th. The fatigued fighter got up, but it wasn't long before Beterbiev knocked him down again.
A courageous Gvozdyk got up again, only to have Beterbiev knock him down one final time. Once Gvozdyk went down to a knee for the third time, Rosato stopped the fight.
A left uppercut by Beterbiev caused Gvozdyk to hold him in the ninth round. Rosato eventually warned Gvozdyk for holding in the ninth.
Top Rank
Beterbiev began wearing down Gvozdyk toward the end of the ninth. He unloaded a barrage of left uppercuts and overhand rights, many of which landed.
Gvozdyk landed three right hands in the eighth round and got Beterbiev's attention. Beterbiev then hit Gvozdyk off a break, which prompted a warning from Rosato.
Beterbiev and Gvozdyk traded right hands toward the end of the eighth round.
Gvozdyk kept Beterbiev honest by firing right hands at him during the seventh round.
Gvozdyk's right caught Beterbiev on the way out early in the sixth round. Gvozdyk did solid work to Beterbiev's body later in the sixth.
Beterbiev blasted Gvozdyk with a right hand late in the sixth. Not only was Gvozdyk unfazed by that shot, he came back to drill Beterbiev with a right hand of his own.
Gvozdyk landed a right hand in the center of the ring early in the fifth round. Gvozdyk landed a right to the side of Beterbiev's head toward the end of the fifth round.
Beterbiev shoved Gvozdyk off him when Gvozdyk tried to tie him up just before the fifth round ended.
Gvozdyk backed Beterbiev into the ropes early in the fourth round and uncorked a right-left combination Beterbiev partially blocked. Gvozdyk avoided Beterbiev's right hand throughout the fourth, but Beterbiev cleanly caught him with a left hook just before that round ended.
Gvozdyk connected with a right to the body and then a right to Beterbiev's head early in what unfolded as a very competitive third round.
Beterbiev nailed Gvozdyk with a straight right hand toward the end of the second round. Gvozdyk withstood it and threw punches to try to fend off the stalking puncher.
Beterbiev seemed to fling Gvozdyk to the canvas late in the first round, only to have Rosato count it as a knockdown for Beterbiev.
Teddy Atlas, Gvozdyk's trainer, complained to Rosato after the round ended. Greg Sirb, Pennsylvania's boxing commissioner, then overruled Rosato's call and took away the knockdown scored for Beterbiev.
Beterbiev put Gvozdyk on his back foot as soon as their fight began. Gvozdyk worked off his jab and quickly got a lot of the Ukrainians in the crowd behind him.
Gvozdyk hit Beterbiev with a right hand in the center of the ring, but Beterbiev took it well.
Gvozdyk lost the WBC title he won by knocking out Adonis Stevenson in the 11th round 10 months ago in Quebec City, Canada. He was down on two of the three scorecards, and even on the third, when he knocked out Stevenson with a right hand that left the powerful southpaw unable to continue December 1 at Videotron Centre in Quebec City, Canada.
Stevenson underwent emergency surgery and was placed in a medically induced coma as a result of a brain injury suffered during that defeat. The former champion has since recovered.
Gvozdyk defended the WBC belt once before he boxed Beterbiev.
He defeated The Congo's Doudou Ngumbu by technical knockout in the fifth round of their March 30 bout at 2300 Arena in Philadelphia. Ngumbu, a huge underdog, couldn't continue in that scheduled 12-rounder due to a leg injury.
Beterbiev beat Enrico Koelling by 12th-round knockout to win the then-vacant IBF championship in November 2017. Andre Ward had owned the IBF title after twice defeating Sergey Kovalev, but he retired in September 2017.