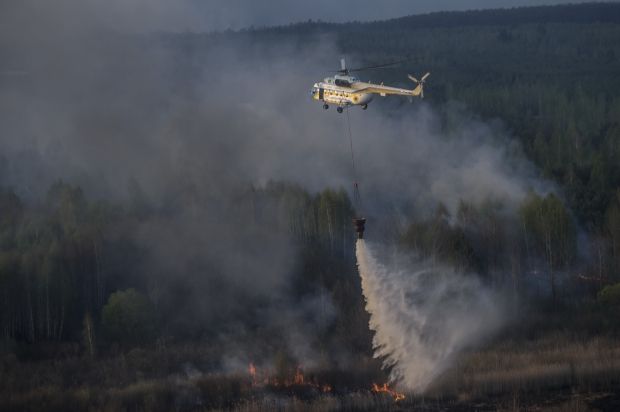 Photo from mvs.gov.ua
The fire in the forests near the Chornobyl powewr plant, within the exclusion zone and the zone of unconditional (obligatory) resettlement, threatened the villages of Buriakivka, Rudnia-Ilinetsky, Glinka, and Lubianka in Ivankov region, and quickly grew to an area of 320 hectares.
The fire started at 1245 on Tuesday. Fifty-one pieces of fire-fighting equipment and 305 firefighters have been involved in combatting the fire. Thirty-nine pieces of fire-fighting equipment (including three firefighting planes and two helicopters) and 253 people were sent to fight the fire by the State Service for Emergency Situations.
The situation is under control and firefighting activities continue, the service said. Firefighting headquarters have been deployed at the scene, as well as a working mobile task group headed by Acting Head of State Service for Emergency Situations in Kyiv region Oleksandr Tkachenko.
The overall coordination of firefighting activities is performed by Acting Chairman of the State Service for Emergency Situation Zorian Shkiriak.
As UNIAN reported earlier, the firefront near the Chernobyl nuclear power plant was halted just five kilometers away from the plant's radioactive waste burial site, according to Ukrainian Interior Minister Arsen Avakov.