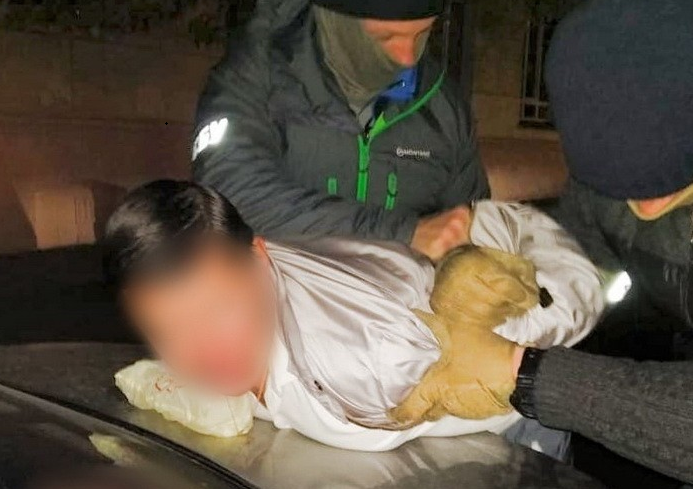 The man was detained amid bribery / Photo from ssu.gov.ua
Officers of the SBU Security Service of Ukraine have detained a man who introduced himself as "freelance assistant" to the country's top officials and, for money, offered to promote the appointment of his "clients" to senior positions in law enforcement and government agencies.
SBU operatives and detectives established that the perpetrator was looking for "clients" through his contacts in business circles and with help of middle-level officials. He called himself a "freelance assistant" and "close friend" of almost all top officials of the state, the SBU's press service reported on November 1.
Read alsoSBU chief announces large-scale lay-offs in 2020
In particular, he set a price of almost US$1.5 million for the CEO's position at a state-run enterprise. The man referred to his contacts and assured that the issue was allegedly resolved directly through officials of the Ukrainian President's Office (PGO).
"Law enforcers detained a con man downtown Kyiv under Article 208 of the Criminal Procedure Code of Ukraine, after he had received part of the advance payment in the amount of US$50,000," the report said.
SBU detectives informed the man about the suspicion of committing crimes under Part 2 of Article 15, Part 4 of Article 27, Part 4 of Article 190, and Part 4 of Article 369 of the Criminal Code of Ukraine.
Now the issue of preventive measure for the perpetrator is being considered.
The pretrial investigation is under way.
According to UNIAN sources, the detainee, meeting with different people, represented himself (depending on the situation) as an adviser to President Volodymyr Zelensky, Chairman of the Verkhovna Rada of Ukraine Dmytro Razumkov, Deputy Prime Minister Mykhailo Fedorov, or an assistant to Top 10 officials from the Servant of People Party.