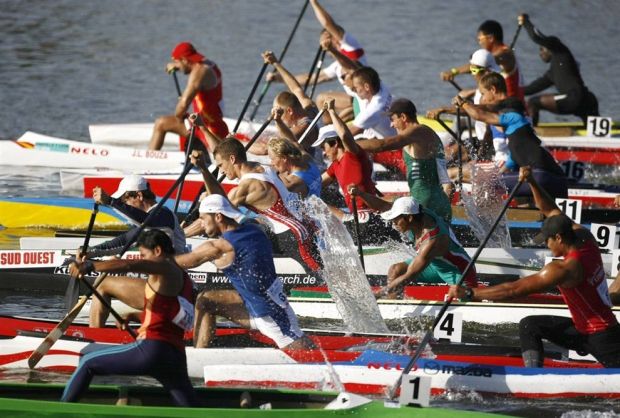 Ukrainian athletes got four medals on the first two days of European Canoe Championships / canoeracice.com
The first two days of the 2015 ECA European Canoe Sprint Seniors Championships in Racice in the Czech Republic were lucky for the Ukrainian national team, where Ukrainian canoe athletes won a complete set of medals – one gold, one silver and two bronze medals.
On May 2, nineteen-year-old Pavlo Altukhov was third in the C1 Senior Men 1000m competition (Race 56). He was 1.164 seconds behind the gold winner, Sebastian Brendel, from Germany (time: 00:03:55.296). The second was Polish canoe athlete Tomasz Kaczor (00:03:56.376).
During the K4 Senior Women 500m event on May 2, Ukrainian female kayak athletes captured a silver medal. The Race 59 time of Mariia Kichasova/Mariya Povkh and Anastasiia Todorova/Inna Hryshchun was 00:01:37.180, which was 1.59 seconds behind a Belarussian team (00:01:35.584). A Russian team was third with 00:01:37.804 (difference: 00:00:02.220).
The most successful was the C2 Senior Men 1000m event on May 1, where Dmytro Ianchuk and Taras Mischchuk won the gold medal with time 00:03:34.292, leaving behind athlete pairs from Russia (diff.: 1.98 seconds) and Germany (diff.: 2.06 seconds).
During the C4 Senior Men 1000m competition on May 2, the Ukrainian team of four – Denys Kovalenko/Elnyr Akhadov and Dmytro Ianchuk/Eduard Shemetylo – won the bronze medal. They were 1.952 seconds behind a Russian team (00:03:23.460) and a Romanian team (00:03:24.792).
The 2015 ECA European Canoe Sprint Seniors Championships started on May 1 and will end on May 3.
Canoe sprint events are head-to-head races conducted on still water, as opposed to the white-water time trials of the canoe slalom competition. In canoes, athletes race single (men's C1) or in pairs (men's C2). In kayaks, athletes race either single (men's K1 and women's K1), in pairs (men's K2 and women's K2) or in fours (men's K4 and women's K4).