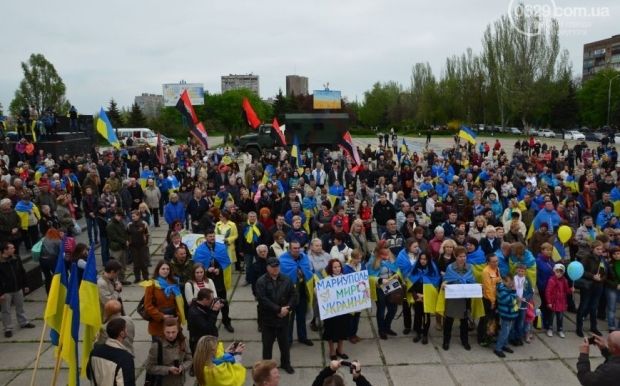 Mariupol residents don't want Ukrainian forces to leave a near-by village / Photo from 0629.com.ua
Residents of Mariupol have staged a rally in protest against the demilitarization of the near-by village of Shyrokyne.
As the local Web portal 0629 reported, several thousand locals wearing red WW II remembrance poppies gathered at Lenin Avenue in the center of the city on Sunday. The artificial flowers also symbolize they are confident of victory in the current war. They were holding Ukrainian national flags and slogans calling to peace. However, they demanded that the Ukrainian troops should not be withdrawn from the neighboring village of Shyrokyne behind which pro-Russian militants' positions are located.
At the beginning of their rally, all those present sang the national anthem and prayed for Ukraine.
Leaders of Mariupol public organizations and civil volunteers addressed those who gathered for the rally and called against the demilitarization of Shyrokyne. Civil volunteers also urged locals to get united, start digging trenches and supply food to Ukrainian troops.
The rally was attended by Ukrainian Member of Parliament from the Samopomich faction, first deputy chairman of the parliament's committee for national security and defense Semen Semenchenko.
"A rally has been held in Mariupol to support Ukrainian troops. Those 2,000 Mariupol residents who have gathered on the site where a monument to Lenin was toppled down have announced they are against the withdrawal of volunteer battalions from Shyrokyne and adopted an address to the president, the Ukrainian General Staff and the secretary of the Security and Defense Council in the form of a resolution entitled "Not a Single Step Backwards." On the site, there was enrolment of volunteers who wanted to join the city's self-defense units," Semenchenko wrote on Facebook on Sunday.
У Маріуполі зібрався мітинг на підтримку українських збройних сил. Присутні на площі "Поваленого Леніна" понад 2000 марі...

Posted by Семен Семенченко on 3 Май 2015 г.
As UNIAN reported earlier, representatives of Ukraine and Russia at the Joint Center on Control and Coordination of the ceasefire in Donbas in April 2015 agreed on the demilitarization of Shyrokyne.