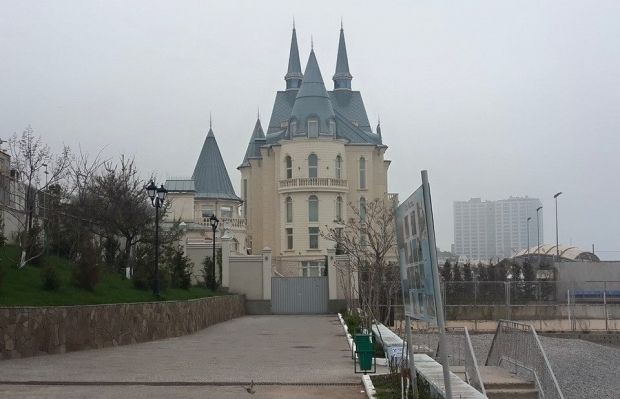 Photo from facebook.com/automaidan
Dubbed by locals as "The House of Harry Potter," the mock-chateaux-styled building has within its shorefront grounds sculpted gardens, a tennis court and a private beach. A luxuary motor cruiser and other boats can be seen on the private shorefront near the "palace," beside a harbor area.
Officially the complex is the premises of the International Humanitarian University, according to a report on the Automaidan organization's page on Facebook.
However, no students can be seen in or about the "university" grounds, activists said. They also said that members of the public are turned away by security guards if they approach the complex.
"If you try to enter the territory of this 'educational institution' you will be welcomed by its 'graduates,' who have a very characteristic appearance [of security guards]," activists said.
The obvious mismatch between Ukrainian officials' salaries and their lifestyles and property holdings was one of the factors spurring the Maidan mass public protests in Ukraine in late 2013 and early 2014 that toppled the Yanukovych regime.
Kivalov, who held several important parliamentary positions when Yanukovych was in power, is now an independent member of parliament in the present Verkhovna Rada, as Ukraine's parliament is named. He won his seat in a first-past-the-post single mandate constituency in Odesa at last October's early parliamentary elections in Ukraine.
The MP is currently under investigation by Ukraine's Prosecutor General's Office on charges that he encouraged via spreading information "changes in Ukraine's constitutional order, and the territories and borders of Ukraine," according to a GPO announcement.
The GPO opened its investigation against Kivalov on March 26, restarting a previous investigation that the office terminated in November last year.
VIDEO: Drone footage of the house in Odesa said to belong to Serhiy Kivalov.