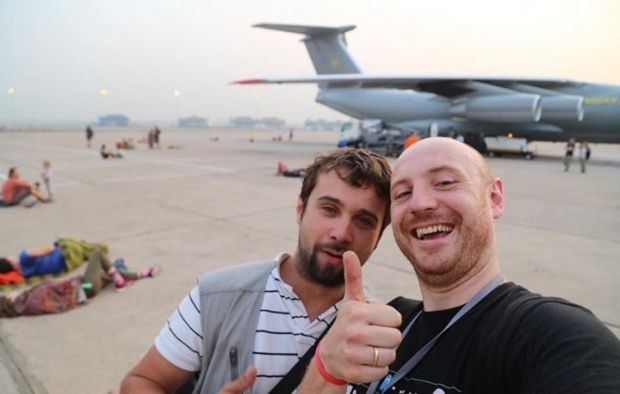 The IL-76 with Ukrainian evacuees from Nepal has landed in Baku / Bohdan Kutiepov / facebook.com
"The IL-76 with Ukrainian evacuees from Nepal (76 people) and citizens of several foreign countries (11 people) has landed at Baku [airport]," the Ukrainian ministry tweeted.
Maria Sebova, a journalist from Ukrainian television channel Noviy Kannal, who was accompanying the Ukrainian team on its rescue mission to Nepal, said that the previous night had been a difficult one.
"[We have been] flying over the Caspian Sea and [have now] landed in Baku," Sebova wrote on her page on Facebook.
"We will stay here for 12 hours while the crew rests. But the night was difficult. When landing in New Delhi we burst a tire. But all are safe and sound."
The Ukrainian rescue mission was delayed for several days due to technical difficulties: The military plane sent to Nepal was held up in India while repairs were made to it, and parts for the aircraft had to be sent from Ukraine.
As UNIAN reported earlier on Wednesday at 2325 Moscow time the Ukrainian aircraft took off from the airport of the Nepali capital Kathmandu with dozens of evacuees on board.
According to Ukraine's State Emergencies Service, on Wednesday at 0635 an IL-76 military transport aircraft of the Ukrainian Defense Ministry departed from the airport in the Indian capital New Delhi on a flight to the capital of Azerbaijan Baku, where it will be refueled and continue on to Ukraine.