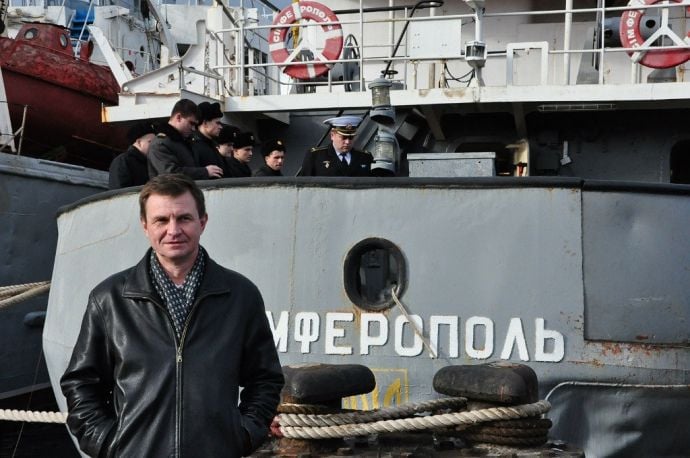 Photo from social networks
The health condition of Volodymyr Dudka, a Ukrainian national accused by Russia of sabotage and sentenced to 14 years in prison, has worsened after his transfer from Russia's city of Moscow to the city of Simferopol in Russia-occupied Crimea.
"Today [November 20], I have met my dad for the first time in three and a half months. He does not receive medical assistance from the pretrial detention center's administration. He has chronic pain in the abdomen, and the blood pressure has increased after the prisoner transfer. During the latest check, it was 160/100. He says he withstood the transfer thanks to the medicines we manage to pass him," as reported by the Crimean Human Rights Group, citing Dudka's son, Illia Kavernikov, who visited his father at jail No. 1 in Simferopol.
Read alsoUkraine, Russia ombudswomen discuss independent medicals for Ukrainian political prisoners
According to Kavernikov, the prisoner transfer of his father and another convicted person in this case, Oleksiy Bessarabov, lasted about a month, during which there were cases when the two were held in prison cells designed for 20 people, instead 50 people could be kept in one such cell.
He also said the following week, his father and Bessarabov would probably be transferred from Simferopol to penal colonies to serve their sentences.
Dudka's son also emphasized the lawyers had been seeking the results of medical examination from the pretrial detention center's administration for a long time, which is necessary for prescribing the exact treatment, but the medical unit's employees have not provided the results to either Dudka or his lawyer for more than a year.
In this regard, Kavernikov had appealed to the "prosecutor's office" in occupied Crimea, however, the prosecutors replied the actions of the pretrial detention center's employees were "lawful."
As UNIAN reported earlier, Dudka, Bessarabov, and a third Ukrainian, Dmytro Shtyblikov, were arrested in Crimea in November 2016 and charged with attempted sabotage.
At the time of their arrests, Russia's FSB accused the three of being members of a Ukrainian "saboteur group from the main intelligence directorate of the Ukrainian Defense Ministry."
Ukraine's Defense Ministry rejected the allegations, calling them "another fabrication of the Russian secret services aimed at justifying its own repressive measures against local residents and discrediting Ukraine in the international arena."
Shtyblikov was tried separately. In November 2017, the Sevastopol City Court found him guilty of attempted sabotage and illegally possessing weapons. He was sentenced to five years in prison.
On April 4, 2019, the Kremlin-controlled so-called "Sevastopol City Court" sentenced Dudka and Bessarabov to 14 years in prison.
On October 15, 2019, Russia's Supreme Court upheld 14-year prison sentences handed down to the two Ukrainian men.