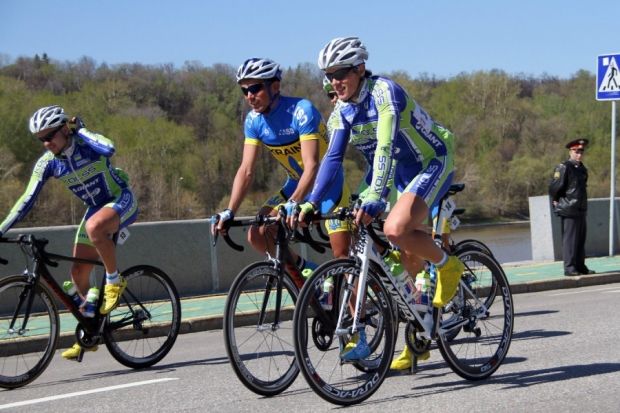 Ukrainians were among winners of Moscow May cycling competitions / Photo from m24.ru
The race ended on Saturday, May 9, with Stage 4 at Moscow's Vorobyovy Gory (Sparrow Hills), the Cycling Federation of Ukraine's press service reported.
Although Russian citizen Matvey Zubov from the Itera-Katusha team came first at the 160 km distance on Saturday, the Ukrainian riders had the best scores in the general classification. In the five days of the competition (the prologue and Stages 1-4), the riders' total distance along Moscow's roads was 640 km.
A total of 155 cyclists from Belarus, Ukraine, Serbia, Kazakhstan, Uzbekistan, Latvia, Germany, Spain, Switzerland, Guatemala, Moldova, and Russia –  26 teams in total – took part in the Five Rings of Moscow competition.
The Five Rings of Moscow is a road bicycle racing stage race held annually in Moscow, Russia. It was first run in 1993 and since 2005 has been part of the UCI Europe Tour as a 2.2 category race.
The Five Rings of Moscow was the last out of a series of cycling races held in Moscow early in May 2015, after the Moscow Cup, the Memorial of Oleg Dyachenko, and the Grand Prix of Moscow.
Ukrainian cyclists were among the winners of almost all the May cycling competitions in Moscow. Ukrainian from Crimea Sergiy Lagkuti from the Kolss BDC Team won the Moscow Cup one-day road cycling. The second place was also occupied by Ukrainian rider – Denys Kostiuk from the same team.
The gold medal of the Memorial of Oleg Dyachenko was captured by Ukrainian Mykhaylo Kononenko from the Kolss BDC Team, who also won Five Rings of Moscow's Stage 2. His teammate Oleksandr Polyvoda won Five Rings of Moscow's Stage 4.
The series of the cycling competitions were devoted to the 70th anniversary of victory over Nazi Germany.