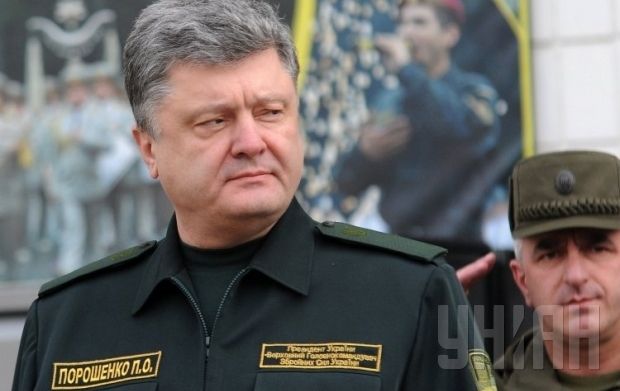 Poroshenko believes that Ukrainian soldiers are properly equipped to face the enemy / Photo by UNIAN
"Today we're putting the emphasis on anti-tank weapons, since, according to our intelligence, the key danger that our enemy, the aggressor, relies on, is the movement of active tank columns," Poroshenko said while vising the Desna military range in Chernihiv region, north of Kyiv.
During his visit, the president inspected an example of one of the latest anti-tank weapons developed by the state defense industry company Ukroboronprom, and watched it being tested.
The president said the Ukrainian Armed Forces soldiers would be well equipped to face the enemy.
"[We have here] the most modern, high-precision, most technologically advanced long-range, laser-guided Ukrainian anti-tank weapon," he said.
Poroshenko said Ukroboronprom has managed to significantly reduce its dependence on foreign components in its products, and has completely abandoned the use of Russian-made components.
He said the anti-tank weapons were made mainly from Ukrainian components and partly using components made by partner companies of Ukraine in the European Union.
Since the beginning of its conflict with Russia, Ukraine has been requesting that it be given defensive weapons to help it deal with offensives by the Russian-backed militants in the east, particularly anti-tank weapons. However, Ukraine's supporters in the west have only supplied non-lethal military equipment so far.
Defense experts say current Ukrainian anti-tank weapons have had problems coping with the reactive armor on the more modern Russian tanks used by the militants, such as the T-72BM, which Ukraine does not use.
Russia denies sending such tanks to the militants in Ukraine, but they have been photographed and videoed many times in the conflict zone - occasionally, and probably unwittingly, by the Kremlin's own journalists.
There are widespread fears in Ukraine today that another offensive by the Russian-backed militants could be only days or weeks away. President Poroshenko said on April 30 that there were indications the militants were gearing up for an offensive in mid-May.
Meanwhile, NATO Secretary-General Jens Stoltenberg told journalists at a news conference on Monday that the alliance believes the militants now have the capacity to launch new attacks against Ukraine with very little warning.
"There has been a Russian build-up, both along the borders between Russia and Ukraine but also inside eastern Ukraine, with a steady flow of heavy equipment, tanks, artillery, ammunition, air defense systems and a lot of training," Stoltenberg said, as reported by Reuters.