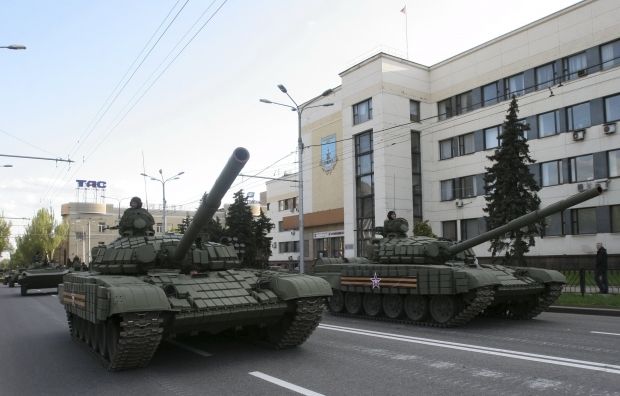 REUTERS
"None of the equipment and weapons that were brought by the militants into Donetsk for the Victory Parade have been withdrawn from the city, but [instead] spread out and hidden in the industrial areas in the north-eastern and eastern outskirts of the city," Tymchuk said.
According to Tymchuk, there is a large concentration of several units of armored vehicles of the militants in the Petrovskiy and Kuibyshev districts of Donetsk, mainly near the village of Krasnohorivka.
Ukrainian President Petro Poroshenko said on April 30 that there were indications that the militant old begin a new offensive against Ukrainian forces in mid-May, while on Monday NATO Secretary General Jens Stoltenberg said the militants now had the military capacity to attack Ukraine with very little warning.
The OSCE earlier said that by bringing their tanks and other heavy weapons into Donetsk, the militants were acting in contravention of the Minsk agreements of February 12, which specifies that both sides have to withdraw heavy weapons out of range of the front line.
Last week Ukraine's Dnipro-1 Territorial Defense Battalion released drone footage of large numbers of tanks, APCs and other military equipment concentrated in depots near schools and houses in Donetsk