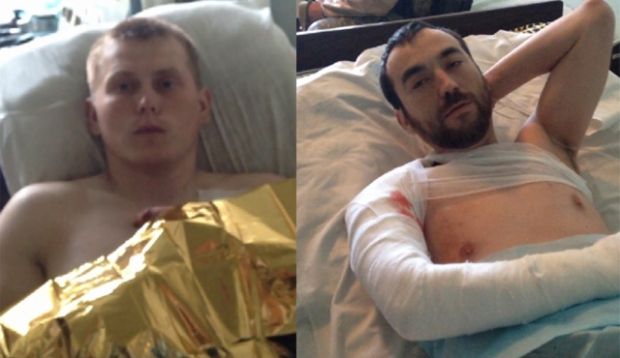 Photos from Censor.net
He said the soldiers had told Ukrainian investigators that they were operating in a sabotage and reconnaissance group comprising of another 14 members of the Russian armed forces.
Nalyvaichenko also added that the detainees acknowledged carrying Russian weapons.
When asked about the possible exchange of Russian servicemen for Ukrainian prisoners of war, Nalyvaichenko replied such option had not been considered.
"They will be tried under Art. 258 of the Criminal Code of Ukraine (terrorism or participation in a terrorist organization)," Nalyvaichenko said.
The SBU chairman said the group of Russian servicemen was sent to Ukraine with the purpose of committing crimes against civilians and Ukraine's ATO forces.
According to Nalyvaichenko, the captured men disclosed their duty positions, their commanders, and are reported to be from the 3rd special purpose brigade of the Main intelligence directorate of the Russian Armed Forces (military unit No. 21208 stationed in Tolyatti).
The two detainees, along with 14 people of the group, are said to have killed one Ukrainian soldier and wounded another. 
As UNIAN reported earlier, on May 16, Ukrainian military from the Aidar volunteer battalion reported that it had captured two Russian soldiers, Alexander Alexandrov and Yevgeniy Yerofeyev, in Luhansk region.