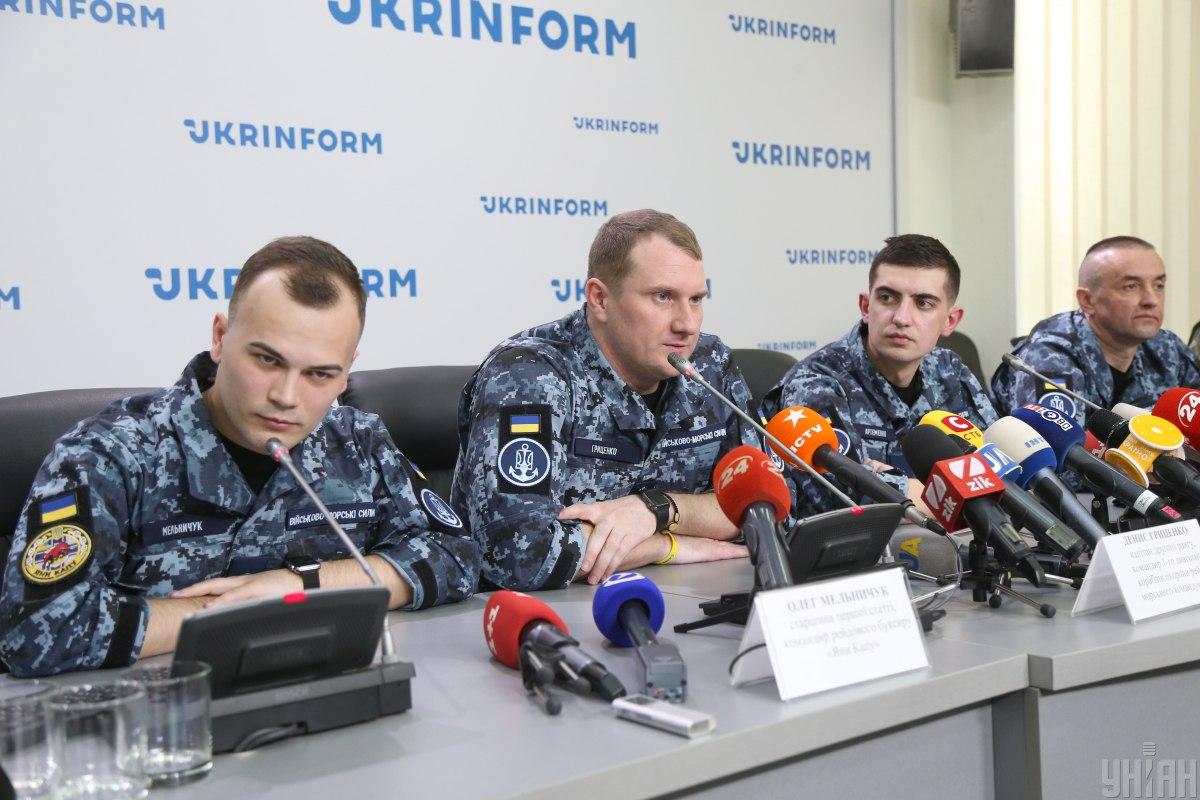 Photo from UNIAN
The Verkhovna Rada, Ukraine's parliament, has granted a combatant status to sailors captured by Russia near the Kerch Strait in November 2018.
A bill on amendments to Article 6 of the Law "On the status of war veterans, guarantees of their social protection" (regarding ensuring the rights of military personnel of the Navy and Air Forces of the Armed Forces of Ukraine to receive the combatant status, No. 1197 ) was backed by 317 lawmakers, an UNIAN correspondent reports.
The bill stipulates the combatant status is granted to members of crews of ships, boats, support vessels, aircraft and helicopters, other persons who, while on board the ships, boats, support vessels, aircraft (helicopters) of the Armed Forces of Ukraine, the State Border Guard Service of Ukraine and the National Guard of Ukraine, defended the independence, sovereignty and territorial integrity of Ukraine and took a direct part in combat (service) tasks in conditions of direct and fire contact with military units of other states and illegal armed groups.
Read alsoUkrainian sailors freed from Russian captivity to undergo rehabilitation in Latvia
The bill extends the effect on legal relations that have arisen since the beginning of the temporary occupation of part of the territory of Ukraine (February 20, 2014), and stipulates that the procedure for granting and depriving a combatant status to a specified category of persons is determined by the Cabinet of Ministers.
The explanatory note says the law defines 20 categories of persons belonging to combatants today.
"However, the current standards do not fully take into account the realities of Ukraine's opposition to Russian armed aggression, which lasts from February 20, 2014. On November 25, 2018, during the performance of a combat mission in the Black Sea and the Kerch Strait, 24 military personnel of Ukraine's Navy, who were part of the crews of the Ukrainian tugboat 'Yany Kapu' and two armored naval boats, 'Berdyansk' and 'Nikopol,' were attacked by fire and detained by Russian military units," according to the explanatory note.
Moreover, according to the current law, this military incident cannot be the ground for granting the Ukrainian military combatant status, since the relevant issues of providing such status are settled regarding the use of troops on land (within the Anti-Terrorist Operation zone).
The proposed changes regulate the issues of granting the combatant status to crews of ships, boats, support vessels and aircraft if they participate in hostilities against military units of other states, terrorist organizations, and illegal armed groups in the future.