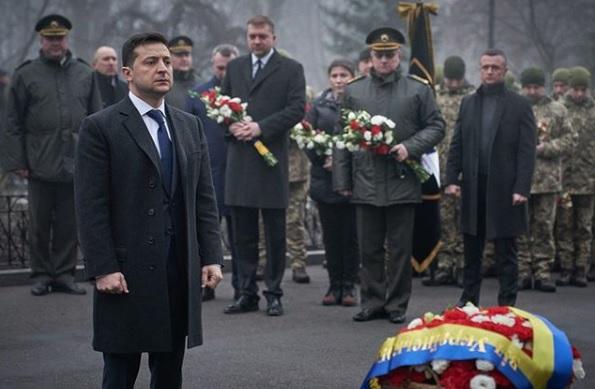 Photo from instagram.com/zelenskiy_official
Ukrainian President Volodymyr Zelensky has commemorated the Kruty Heroes, the young Ukrainians executed by the Bolshevik Red Army near Kruty on January 29, 1918.
Zelensky laid flowers to the Kruty Heroes Memorial Cross at Askold's Grave in Kyiv, according to the president's press service.
The memory of the fallen heroes was honored with a moment of silence. The national anthem of Ukraine was played. The honor guards saluted from personal weapons.
Zelensky also laid flowers to the graves of participants in the Anti-Terrorist Operation who died in eastern Ukraine, as well as visited St. Nicholas' Church in Askold's Grave Park.
UNIAN memo. On January 29, 1918, the railway station of Kruty in Chernihiv region was where 300 Kyiv cadets, who were deployed to defend approaches to Kyiv, fought a 6,000-strong Bolshevist army under the command of Mikhail Muraviev, who among other Russian commanders led the offensive on the Ukrainian People's Republic.
All students were either killed on the battlefield or taken prisoner and later brutally executed. The Battle of Kruty delayed the Bolsheviks' offensive for four days. These days became decisive for Ukrainian diplomacy in order to obtain from the international community the recognition of independent Ukraine.
Officially, Ukraine started marking Day of Remembrance of the Kruty Heroes in 2007.