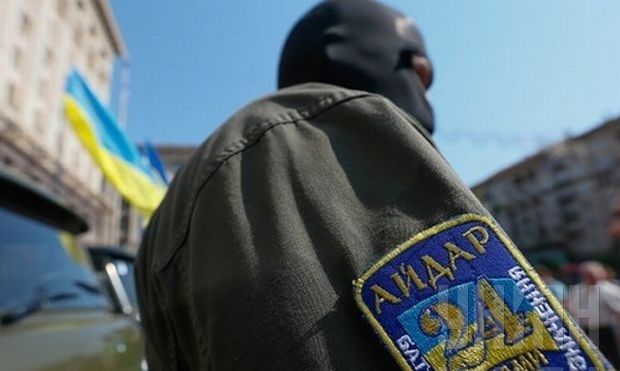 UNIAN
According to the report, some of these volunteers were not officially registered in the battalion, despite the fact that when the battalion was under the leadership of Serhiy Melnychuk they were given weapons.
"It was stated from the tribune of the Verkhovna Radad that the Prosecutor General's Office was investigating the crimes of Melnychuk only in the city of Kyiv, in Kyiv and Zhytomyr region," Moskal said.
"At the same time, there are plenty of cases of abduction, extortion, torture, looting, illegal use of weapons, etc. in the Donbas conflict zone," he said.
According to the press service, the crimes were committed by volunteers who had received unregistered weapons from Melnychuk and wore uniforms marked with the insignia of the Aidar Battalion, but weren't registered in documents.
"I would like to emphasize that a part of the Aidar Battalion is really defending the territorial integrity of Ukraine on the front line, while the other part has decided to make money in wartime," Moskal said.
"The list includes only 25% of the crimes, among which the most difficult and the most resonant - the abduction of civil servants for ransom, offering resistance to law enforcement officials, the robbery of entrepreneurs and others. I've been asked every day by victims and their relatives if the criminals were punished. And what should I tell them - that Melnychuk will be judged only for Kyiv and Zhytomyr region?" Moskal said.
According to Moskal, all of these crimes should be investigated by law enforcement agencies and those responsible should be held strictly to account, according to the Ukrainian legislation.
As UNIAN reported earlier, on June 3, the Verkhovna Rada of Ukraine agreed to strip MP of Oleh Liashko's Radical Party and founder and first commander of the Aidar Battalion Serhiy Melnychuk of his MP's immunity from prosecution, but refused to give consent to his detention and arrest.
Melnychuk had been accused of forming a criminal gang.
Speaking in the Verkhovna Rada, Acting Prosecutor General of Ukraine Volodymyr Huzyr said that Melnychuk had been involved in illegal actions outside of the conflict zone.