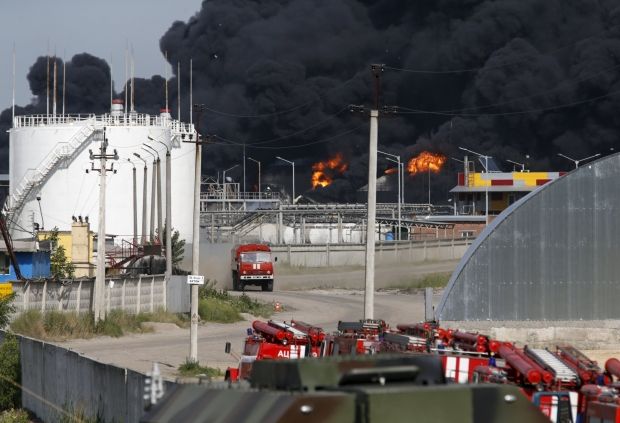 REUTERS
"There were several explosions during the night. There were casualties. According to firefighters, currently they are preventing the ignition of fire in adjacent tanks and cooling them," Azov wrote.
"They [firefighters] are waiting for a damaged tank to burn out, because it cannot be put out. They say the burning of the oil depot will continue for one or two days, according to preliminary forecasts."
According to Azov's press service, firefighters were injured during fire extinguishing operations.
"New explosions may occur, based on forecasts," Azov said.
It is also noted that the greatest threat that currently exists is rainfall. This would lead to catastrophic contamination of the area.
Meanwhile, the fire at the oil storage facility near Kyiv has already been brought under control. Four tanks of oil have completely burnt out at the oil depot in Vasilkiv district.
As UNIAN reported earlier, in the evening of June 8, a fire broke out in the oil depot BRSM-Nafta in Vasylkiv district of Kiev region.
 The fire killed four people: three rescue workers and one employee of the oil depot, and another 12 people are reported to have been injured.