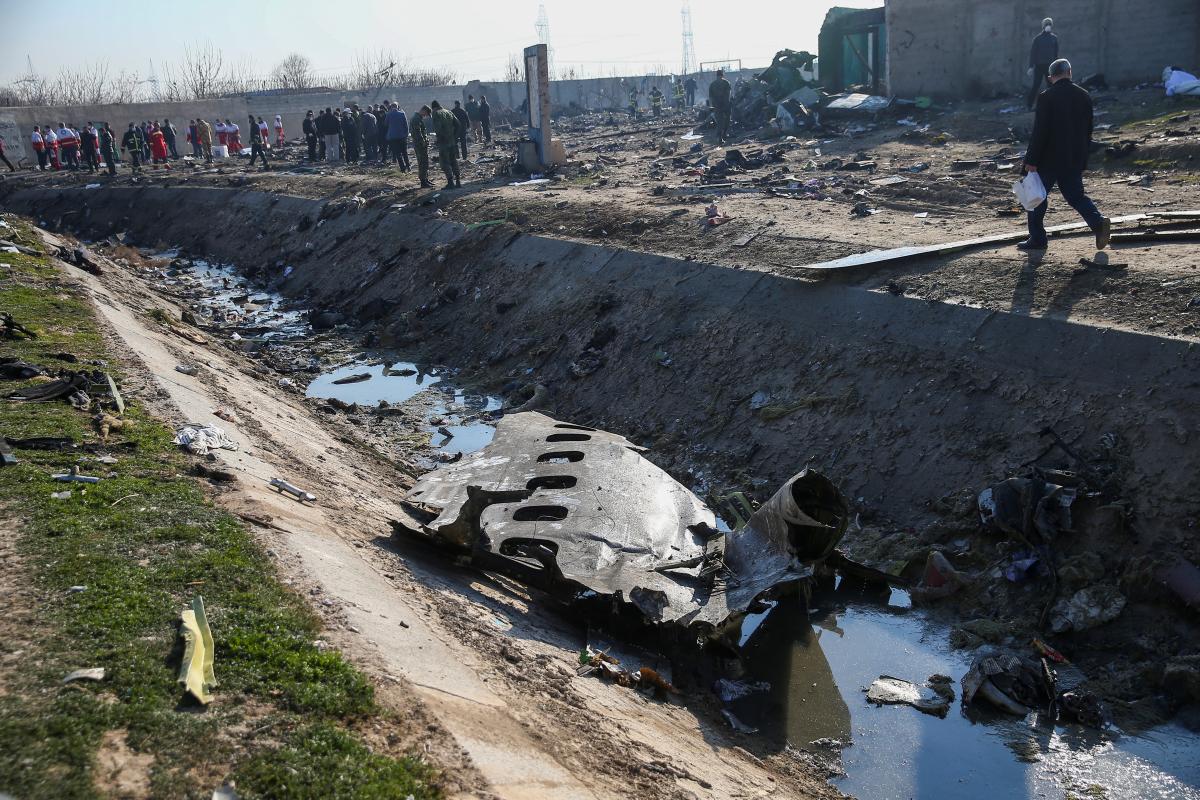 REUTERS
Ukrainian Foreign Minister Vadym Prystaiko at a meeting with his Iranian counterpart Mohammed Javad Zarif has demanded to investigate and report the reasons for the downing of a Ukrainian plane near Tehran.
"We are actively working both as the Ministry of Foreign Affairs and as our government to restore justice, to bring to responsibility all those who are guilty," Prystaiko said at Boryspil Airport to relatives of the dead Ukrainians on board the PS752 flight.
 "I understand we can in no way repay the lives of your relatives. The only thing we can do is to demand fair compensation for this," Prystaiko said.
He reiterated he met with Iranian Foreign Minister Mohammed Javad Zarif on February 15.
"During this meeting, we demanded a fair and honest investigation. We will not agree to just blame some soldier who shot it down. We demand to know the whole truth about what happened with our flight, which led to the death of our people," Prystaiko said.
Read alsoPS752 downing: Ukraine releases intercepted tower communications proving Iran was aware of missile launch all along
As UNIAN reported earlier, a meeting of ministers of the countries of the International group for the coordination of assistance to the victims of the Ukrainian aircraft PS752 crash took place on the sidelines of the Munich Security Conference on February 15.
The meeting was attended by representatives of Ukraine, Canada, Sweden, Britain, and Afghanistan.
Canadian Foreign Minister François-Philippe Champagne said the common goal of all five countries is to ensure responsibility, transparency and justice from Iran for the victims of the terrible tragedy. According to him, Iranian Foreign Minister Mohammed Javad Zarif also joined the meeting for a short time.
In particular, the ministers of five countries called on Iran to hand over "black boxes" from a downed Ukrainian plane for examination.
In turn, Zarif confirmed his readiness to cooperate with Ukraine in the probe of the crash.
As UNIAN reported earlier, Kyiv-bound UIA flight PS752 crashed shortly after takeoff from Tehran's Imam Khomeini International Airport in the early hours of January 8. It was carrying 167 passengers and nine crew members on board. Two passengers and the crew members were Ukrainians. There were also 82 citizens of Iran, 63 citizens of Canada, 10 citizens of Sweden, four citizens of Afghanistan, three citizens of Germany and the United Kingdom each. There were no survivors.
Read alsoIran not to hand over black boxes from UIA's downed plane to outside governments
On January 11, Iranian President Hassan Rouhani officially admitted that the Ukrainian airliner had been shot down by accident as a result of a "human error" and that those responsible would be held accountable.
On February 2, intercepted communications between Tehran Airport's air traffic control tower and the second pilot of Iran's Aseman Airlines flight at the time of the crash of flight PS752 were released by TSN.Tyzhden. Tehran blamed the Ukrainian authorities for leaking what it described as confidential evidence, and said it would no longer share investigation materials with Ukraine.
Tehran has not yet handed over the PS752 black boxes to Kyiv, although the Iranian authorities do not have equipment to analyze them.