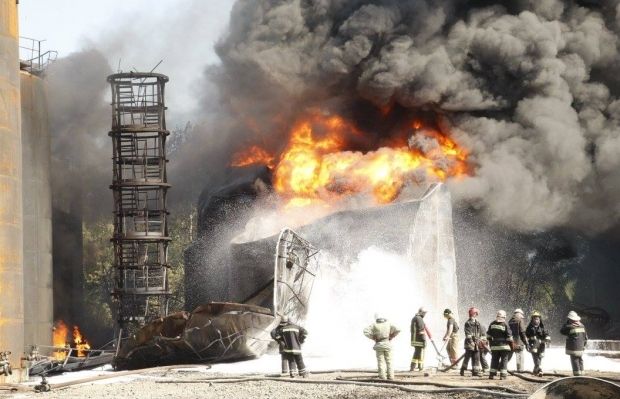 Five people have been killed in a fire at an oil depot near Kyiv / Photo from facebook
"The emergency situation in Kyiv region has revealed many problems," the NSDC's press service said quoting Turchynov as saying.
Rescuers from the State Emergency Situations Service have demonstrated courage in the fight against the fire and have done their utmost to localize the fire, "even at the cost of their lives – three rescue workers were killed when performing their duties," he said. "Despite this, the fire has killed five people," he added.
As UNIAN reported earlier, a fire broke out in the BRSM-Nafta oil depot in Kyiv region's Vasylkiv district in the evening of June 8. The fire began in one fuel tank and spread to another 16 tanks. A total of 17 tanks are located at the oil depot.
According to earlier reports, the fire killed four people – three rescue workers and one employee of the oil depot – while another 14 people are reported to have been injured and taken to hospital.
The Interior Ministry initiated a case under Article 275 of the Criminal Code to investigate the death of people during firefighting. It was also reported that a case under Article 273 was opened, with the Interior Ministry saying that the oil depot had not been properly commissioned.