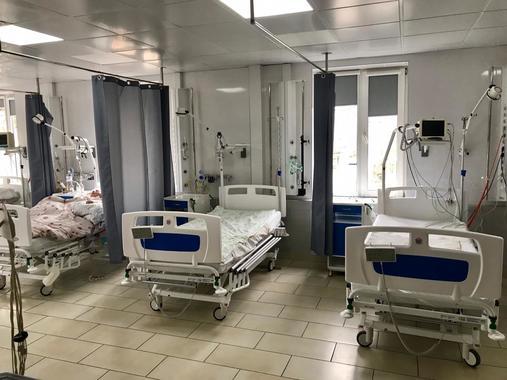 All employees are well informed about what to do if COVID-19 has been identified / Photo from Health Ministry's press service
Ukraine's Deputy Health Minister Viktor Liashko on March 1 inspected three local hospital facilities designated for possible coronavirus patients.
In particular, he visited hospitals in the cities of Zhytomyr and Rivne, and the town of Sarny as part of his working visit, the ministry's press service said.
Read alsoTwo Ukrainians who returned from Italy preliminarily test negative for coronavirus
He met with doctors and hospital nurses.
"During the visits, it is important to understand how the hospitals and, most importantly, the medical staff are prepared. This applies to both their professional skills and morale. The doctors are ready to provide all necessary medical care to patients with coronavirus infection," the deputy minister said. "If necessary, medical workers are ready to work overtime. All employees are well informed about what to do if COVID-19 has been identified."
According to him, several drills have already been held in those three facilities.
The hospitals of Zhytomyr, Rivne and Sarny have isolation wards designed for possible or confirmed cases of the novel coronavirus.
They are currently empty, but are ready to receive patients at any time.
"In all three hospitals, they know what intensive care measures should be taken. Zhytomyr's hospital has an intensive care unit, it has also developed an action plan for the treatment of a greater number of people and for re-equipment of hospital units. In Rivne, the intensive care unit in the infectious disease department will be fully prepared by the end of next week. But if necessary, other departments are ready to receive patients for intensive care," the ministry said.
Thus, it assured that the medical system of Ukraine is ready for addressing confirmed coronavirus cases.
In Ukraine, there are about 12,000 beds in infectious disease hospitals, isolated wards, 2,000 doctors who are able to treat infectious diseases, 5,000 medical personnel working in infectious diseases hospitals.