Fire finally put out at oil depot near Kyiv
No signs of burning were observed at the BRSM-Nafta oil depot near Kyiv as of 0700 on Wednesday, the press service of the State Emergency Service of Ukraine has said.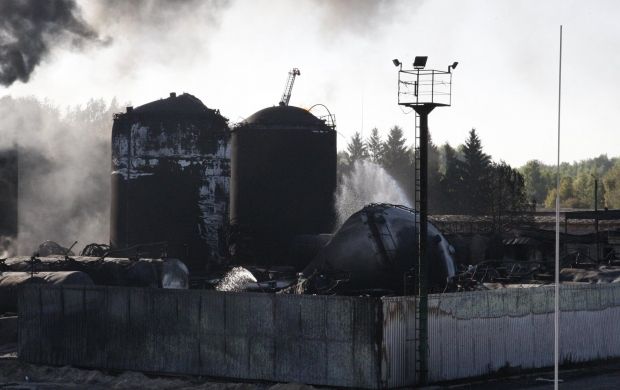 Photo from facebook.com/MNS.GOV.UA
Firefighters took temperature measurements of fuel tanks using a thermal imager: the highest temperature is recorded in a tank with a capacity of 900 cubic meters - 60 degrees Celsius, and the temperature of the remaining tanks does not exceed 45 degrees.
At the moment, the surveillance and monitoring of the fire situation is carried out at oil depot.
Emergency workers are continuing to pump diesel fuel from three tanks at the BRSM-Nafta oil depot into the tanks of the nearby KLO oil depot. According to the report, a total of 3,152 cubic meters of fuel has already been pumped, while more than 2,000 cubic meters of fuel remain to be pumped.
A total of 38 units of equipment and 100 emergency workers are working at the scene.
Thirty police officers and 70 National Guard soldiers are protecting the accident site.
If you see a spelling error on our site, select it and press Ctrl+Enter