President's Office
A special flight carrying Ukrainians evacuated from Italy over the coronavirus arrived at Boryspil International Airport late Sunday night.
The plane carried 123 Ukrainians who had got stuck on the Italy-Slovenia border as Slovenian border guards did not allow them to cross over the quarantine.
"By order of President of Ukraine Volodymyr Zelensky, the transportation has been organized by SkyUp air carrier of Ukrainian citizens from Italian Venice (Marco Polo Airport) to their homeland," the president's press service reported.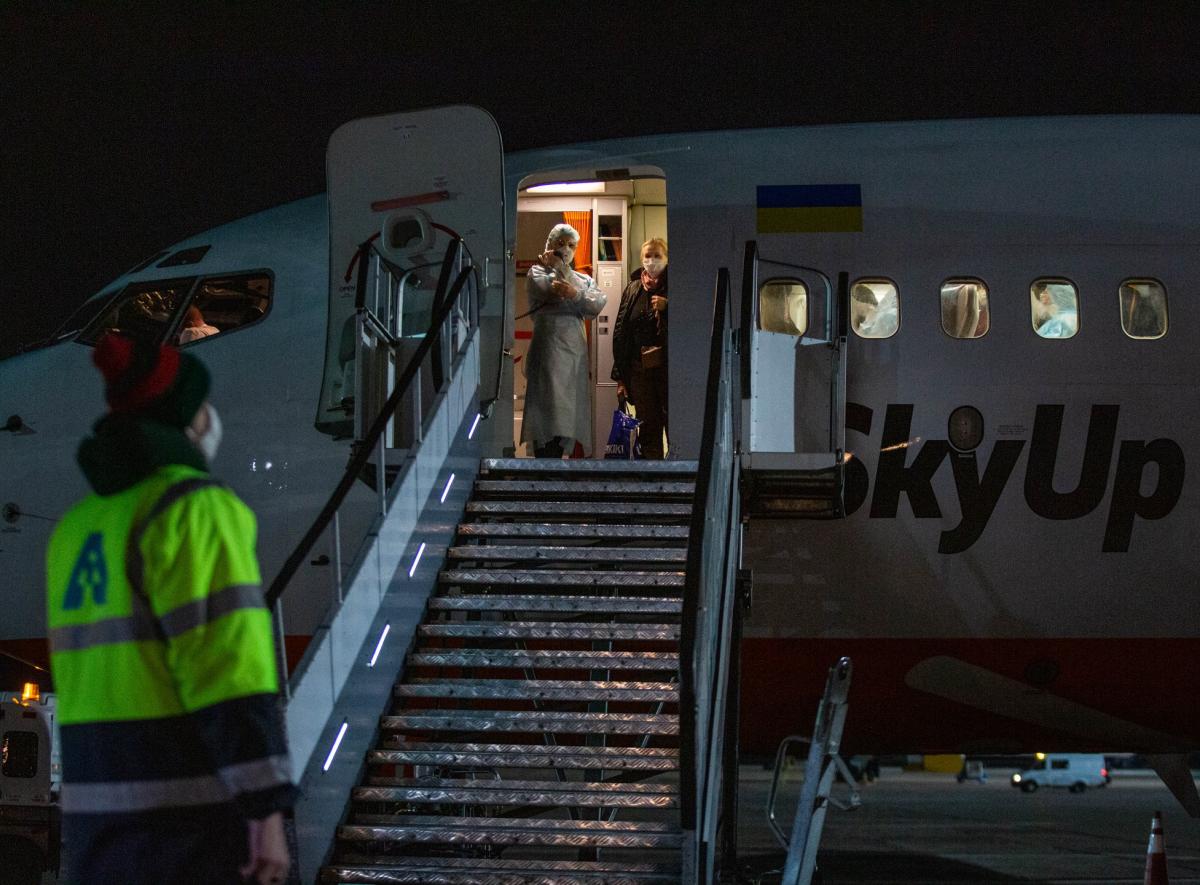 President's Office
At 10:23 p.m., passengers of two buses that had previously been stuck on the Italian-Slovenian border, as well as those who expressed a will to leave Italy, returned to Kyiv on a special flight. All evacuated are Ukrainian citizens, except for two people who have a residence permit in Ukraine and, according to the decision of the Cabinet of Ministers, can enter our country," the statement reads.
Before boarding a plane in Italy, all passengers underwent a medical test for signs of a possible disease. According to the Italian side, only healthy passengers were allowed on board, without symptoms of the disease.
After arriving in Kyiv, passengers were also examined by doctors. On board the aircraft were doctors from the Center for Disaster Medicine, who had express tests kits with them, as well as remote thermometers. During the flight, doctors made the relevant checks. The crew had protective masks on and used disinfectants.
Read alsoOnly pharmacies, grocery stores should remain open: Ukraine's health chief on minimizing Covid-19 spread
All evacuees signed a consent to undergo voluntary self-isolation – 14 days at home – after returning to Ukraine.
For any violations of self-isolation measures, persons shall be held liable.
As reported earlier, on March 14, at an emergency meeting, the Cabinet of Ministers decided to immediately evacuate Ukrainian citizens from Italy where the coronavirus spread pace is the highest at the moment.
Ukraine will also close all passenger air traffic to prevent the coronavirus from spreading.
In the days leading up to the border shutdown, UIA is also planning to set up several additional flights for the return of Ukrainians.