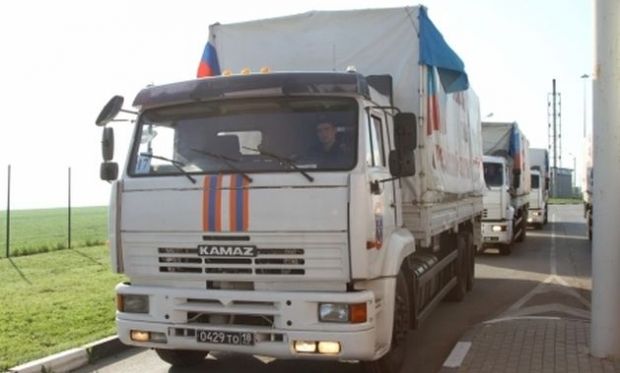 Photo from mchs.gov.ru
The Russian Ministry of Emergency Situations said the vehicles were delivering food and medicine in Donetsk and Luhansk regions.
The truck convoy, as with previous ones, split into two after crossing from Russia into militant-held Ukraine, with one section heading for Donetsk and the other for Luhansk, according to Russian state news agency TASS, with reference to the press office of the Emergency Situations Ministry.
"Customs clearance and border registration of all vehicles with humanitarian aid has been completed at the two border crossing points. They have safely crossed the border and are moving towards their destinations," a spokesperson at the Russian ministry said.
The agency said that an inspection of the vehicles was carried out by representatives of the border and customs services of Ukraine, and no comments had been received from them.
Ukraine says Russia sends its convoys into Ukraine without permission from the Ukrainian government. It has previously said that Ukrainian border guards were only permitted to carry out visual inspections from behind a fence.
The Russian ministry said the convoy of over 100 vehicles is carrying more than 1,000 tonnes of humanitarian aid, including food and medicine, including insulin, immunosuppressive agents and disinfectants. The food products include pasta, various cereals, flour, tea, the ministry said.
Ukraine claims that the convoys are also carry supplies for the Russian-backed militants that have seized control from the local authorities in parts of Donetsk and Luhansk regions. Ukraine has lost control of a section of its border with Russia more than 400 kilometers long.
As before, the Russia aid convoy crossed into Ukraine via a checkpoint where the Ukrainian authorities are not in full control. The convoys, of which Thursday's was the 31st, have never crossed into Ukraine via a Ukrainian-controlled checkpoint, and only ever visit the parts of Ukraine were armed militants have seized control.
Ukraine says the convoys are also used to transport back to Russia the bodies of Russian troops, volunteers and mercenaries killed in fighting in Ukraine, as well as equipment taken from Ukrainian industry in the region.
The Ukrainian military also says the arrivals of the "aid convoys" coincide with upsurges in militant attacks on Ukrainian positions along the front line in the following days.