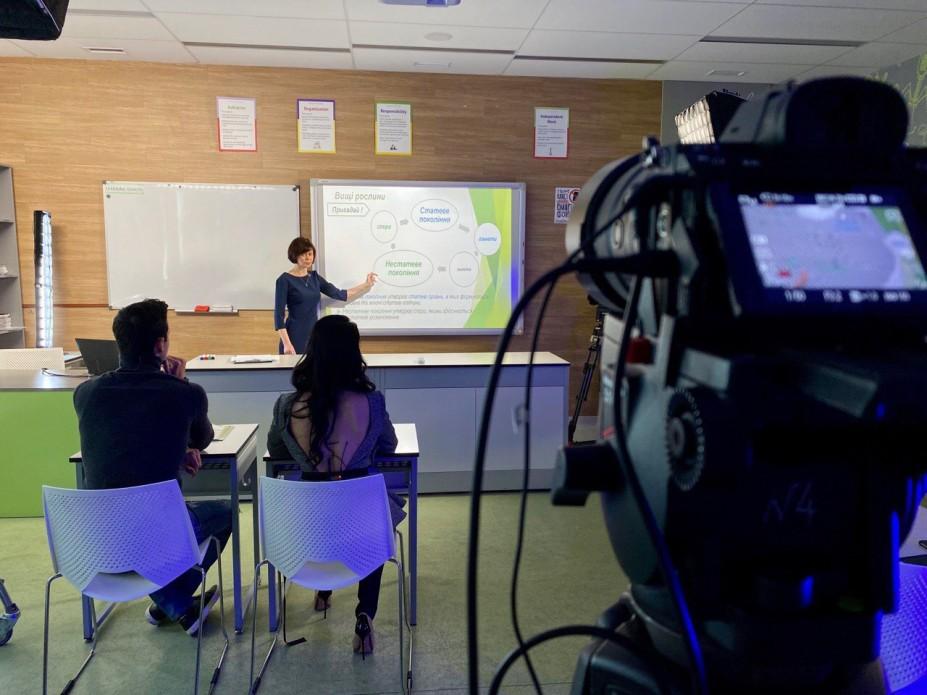 Some 40 Kyiv teachers are involved in the project / Photo from president.gov.ua
Ukrainian President Volodymyr Zelensky's Office has said students from Russia-occupied Donetsk and Luhansk regions, Crimea and the city of Sevastopol will be able to watch video lessons created as part of the president's educational initiative, titled "National Online School" on Ukraine's Dom (Home) TV channel established for residents of temporarily occupied territories.
Moreover, residents of the Russian-annexed peninsula who have access to TV broadcast via direct broadcast satellite receivers will also be able to watch video lessons on UA:Pershyi (First) TV Channel and other channels that are project partners, the press service of the Office of the President said on April 2.
Read alsoUkraine's Education Ministry ready to reschedule independent testing, entrance exams over quarantine
In addition, children from temporarily occupied territories will be able to watch lessons on the Ukrainian Education and Science Ministry's website (via Facebook and YouTube).
As UNIAN reported earlier, the National Online School project would be launched across the country on April 6. The project will provide access to distance learning for all Ukrainian students from 5th to 11th grades amid the coronavirus quarantine.
Within the project, 40 Kyiv teachers will actually become teachers for children across Ukraine. Today, lessons are being shot daily in line with the balanced curriculum of the Ministry of Education and Science, developed jointly with teachers.
The project will focus on teaching the Ukrainian language and literature, Ukraine's history, world history, English, physics, algebra, geometry, geography, chemistry, and biology.