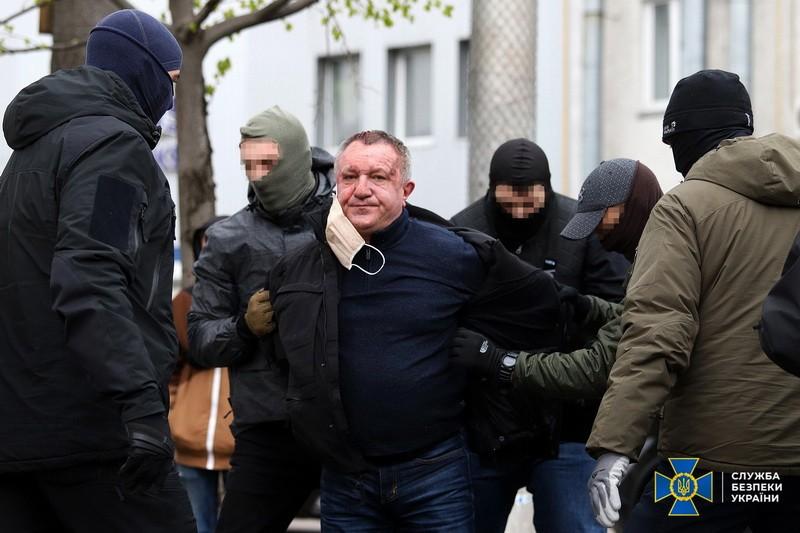 ssu.gov.ua
Counterintelligence operatives with the SBU Security Service of Ukraine have exposed and detained SBU Major General Valery Shaitanov on charges of high treason and terrorism.
"The SBU collected a sufficient amount of evidence that convincingly testifies to Shaitanov being an asset of the Federal Security Service of the Russian Federation," the SBU press service reported, adding that it has at its disposal audio and video evidence backing the charges pressed.
On FSB instructions, Shaitanov had been gathering and transmitting intelligence on certain covert operations carried out in the Donbas warzone, on Ukrainian security agencies' international cooperation on issues of national security and defense, etc.
FSB handler Igor Yegorov / ssu.gov.ua
The investigation has videos of the turncoat's repeated meetings with his handler, held on the territory of third states, including Germany, France, and Croatia.
The investigation also has irrefutable evidence that, on the instructions of the Russian security agencies, Major General Shaitanov plotted  to carry out terrorist acts in Ukraine. To this end, his FSB handler promised a $200,000 reward and a Russian passport.
To execute acts of terror, Shaitanov has specifically picked a person from among former special operations forces troops.
Searches are being carried out at locations where Shaitanov is known to have been living, as well as homes of other Ukrainian citizens suspected of being part of a human asset network led by FSB operative Colonel Igor Yegorov.
The SBU states that, using his powers in office, Shaitanov had been gathering intelligence from senior and top SBU operatives.
It is also reported that the FSB handler had managed to recruit the SBU general during regular official visits to Ukraine before the outbreak of war in 2014 as part of interagency cooperation.