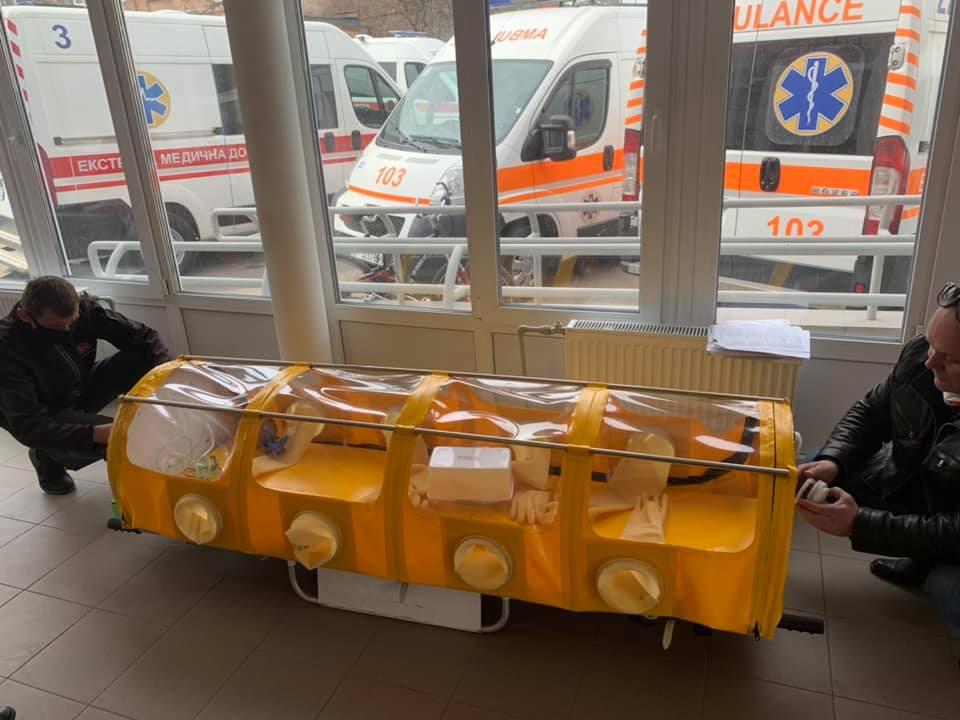 The tube / Photo from Poltava Regional Administration
A Kremenchuk company has created the prototype of a sealed tube for the transportation of patients with the COVID-19 coronavirus.
The prototype was made by Kremenchuk-based LLC Creative Agromash, a Ukrainian manufacturer of elevator equipment, steel structures, tanks and silos for wood chips, pellets, and grain, Poltava Governor Oleh Synegubov told UNIAN.
Read alsoNo new COVID-19 cases reported in Ukraine Army
The tube weighs 16 kg; it is made of an air-proof material, equipped with a mask, oxygen supply devices, a compressor and filters for air disinfection, Yuriy Andrievsky, who heads the project, told UNIAN.
Also, the tube has hose gloves so that doctors can carry out any manipulations without directly touching a patient.
The equipment underwent trials when the staff of a local emergency medicine center transported an imaginary patient in the tube, fixed the equipment inside the ambulance and connected it to the oxygen supply.
"It took just seven days from the idea of creating a tube for transportation to its production. After testing, the prototype was sent for finalization and will subsequently be returned to Poltava," Volodymyr Mokhnachev, the head of the emergency medicine unit of Poltava Regional State Administration's Health Department, said.