vk.com/livekharkov
"Today, at 08:40, an armed attack on the Nova Poshta office took place on Newton Street in Kharkiv, during the morning cash collection. According to preliminary information, three employees were killed," Herashchenko wrote.
According to him, an intercept plan is being introduced in the city. An investigative team is working on the scene.
ВНИМАНИЕ ! ПРИМЕТЫ ПРЕСТУПНИКА УБИВШЕГО ТРОИХ ИНКАССАТОРОВ В ХАРЬКОВЕ ! Возраст со слов очевидцев преступления - 40-45...

Posted by Anton Gerashchenko on 9 Июль 2015 г.
"We ask everyone who witnessed this tragedy to testify and help investigators identify the killers. One of the main versions is that this attack was performed by the same group of unidentified persons who had previously committed four robberies and murders of cash collectors and haven't been captured," Herashchenko said.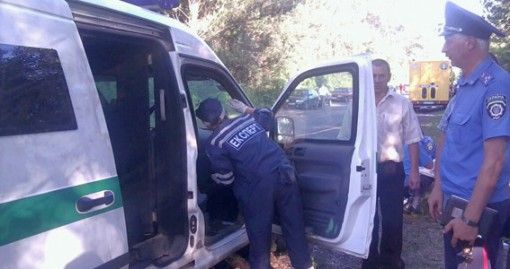 vecherniy.kharkov.ua
It was reported later that one attacker, who wore a helmet, a mask and a bulletproof vest, was seen firing automatic rifle at the armored vehicle of cash collectors. 
After that, he grabbed several bags with mail and attempted to escape in the vehicle he had attacked. Having failed to start the engine, the unidentified person stopped another car which was passing by and fled from the scene.
Accoring to the updated information, the robber is believed to have taken UAH 2.3 million.
The male suspect's special features were also published by Heraschenko: "… 190 cm tall, blond hair, short forelock at the front, long hair at the back of his head. He was wearing  a light shirt, gray shorts, and sandals. At the time of the attack, the perpetrator was wearing a helmet, a mask, and body armor," wrote Herashchenko.
In addition, the Advisor Avakov said that the offender fled in a silver-colored vehicle (Russia-made 2110 VAZ model) with the registration plate: AH8632AE.
The attacker acted alone, the press service of the Kharkiv regional department of the Ministry of Internal Affairs told an UNIAN correspondent.