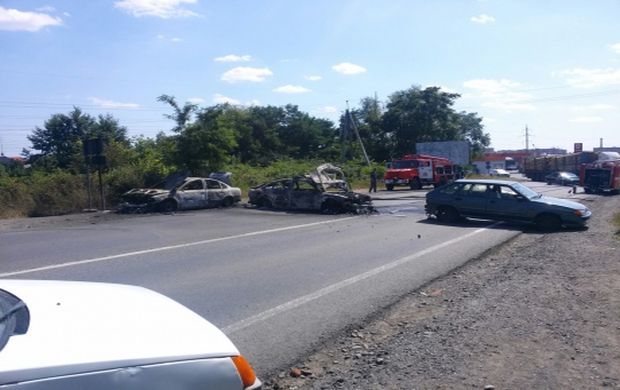 Two police cars have been blown up by grenade launchers in Mukacheve / Photo from vk group "mukachevonet"
"A special operation is under way in Zakarpattia region to block, disarm and arrest a criminal gang, which has attacked a civil facility in Mukacheve," the minister wrote on Facebook on Saturday.
First aid is being given to the injured. One civilian and one police officer are in critical condition, according to the minister.
The attackers are now surrounded and offered to surrender, Avakov wrote.
В Закарпатській області триває спецоперація із блокування, роззброєння і затримання банди, яка в суботу здійснила напад...

Posted by Arsen Avakov on 11 Июль 2015 г.
SWAT police and National Guard special units have been sent to reinforce the SBU security service forces, which are in charge of this operation.
"The instructions are tough – to localize and disarm the criminal gang," Avakov added.
Ukrainian President Petro Poroshenko's reaction to the incident was immediate: he instructed the law enforcement agencies to arrest the criminals involved in the shooting in Mukacheve.
"I have instructed the law enforcement agencies to disarm and arrest the criminals involved in the shooting and murder of civilian residents in Mukacheve," he tweeted on Saturday.
Доручив правоохоронним органам роззброїти і затримати злочинців, які вчинили стрілянину і вбили мирних мешканців Мукачевого.

— Петро Порошенко (@poroshenko) 11 Липень 2015
Local news online portal Mukachevo.net reported that the clashes had taken place in territory of the Antares sports complex and the club formerly called Red Dragon at Lermontov Street in Mukacheve.
Mukachevo.net refers to preliminary reports that armed men calling themselves the Right Sector seized the territory of the sports complex. Men from the circle of Member of Parliament Mykhailo Lanyo, who was on the scene, resisted the seizure.
At 14:00 Kyiv time on Saturday, a new shooting incident happened near Hotel Chervona Hora, or Red Mountain, along the Kyiv-Chop highway as a continuation of the previous shoot-out.
A shooting incident in Mukacheve