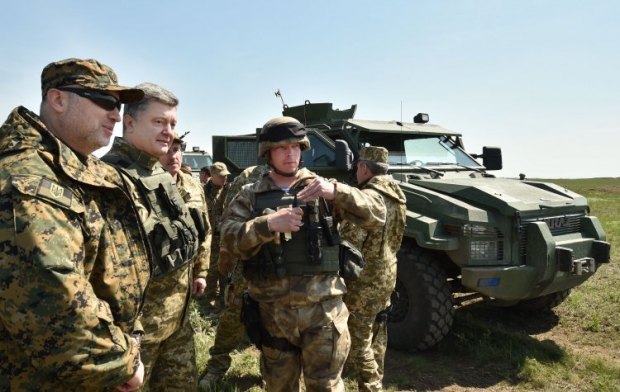 Poroshenko inspects drills of paratroopers in Mykolayiv / Photo from UNIAN
"The heroic defense of the Donetsk airport, the storm and holding of defenses of Saur-Mohyla, successful raids on enemy rear and active participation in other operations began symbol of exceptional courage of the paratroopers, an example of their valor and honor for every Ukrainian citizen," reads the message.  It emphasizes: "You have always been the first to act boldly and perform difficult tasks in the most threatening zones of this undeclared war. And today, you are meeting this holiday in combat positions in the eastern and southern regions of Ukraine, once again confirming your motto: "Nobody, but us!"
Read alsoPoroshenko: High cost of direct invasion obvious to Russia
Also, the President of Ukraine congratulated the personnel and veterans of the Air Force of the Armed Forces of Ukraine. The message says: "In a difficult time for our country, the soldiers of the Air Force demonstrated loyalty to the Ukrainian people, courage and perseverance, dedication and professionalism."
"The active air support and reliable anti-missile cover of our troops, air reconnaissance, transportation of personnel and material resources, medical evacuation, and decisive action on the defense lines side by side with the other units of the Armed Forces – these and many other tasks are performed with dignity by the Air Force," the message reads.
The president said that those who had fallen in the fight for peace in Ukraine, for our right to build a free European state together, became the "example of heroism and sacrifice".