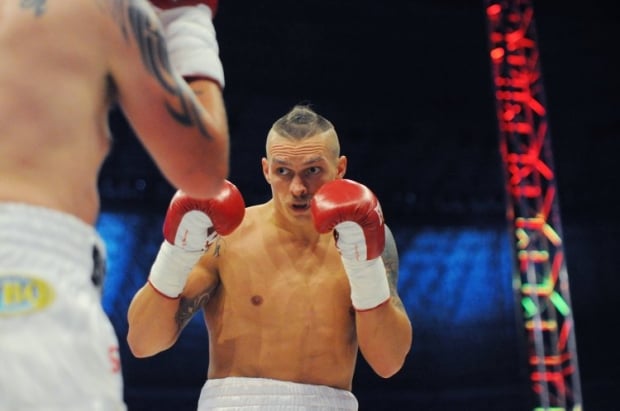 Usyk won for the eighth time / Photo from UNIAN
Two citizens of Ukraine - filmmaker Oleh Sentsov and activist Oleksandr Kolchenko - were convicted by a Russian court to 20 and 10 years of imprisonment, respectively.
Two of three Crimean Tatars who had gone missing in annexed Crimea on August 21, were found dead near Simferopol, according to the Majlis of the Crimean Tatar people.
3% of Ukrainians are satisfied with the current pace of reforms, according to a poll conducted by the American International Republican Institute, Ukrainian media reported. 40% of respondents said that there had been no visible change, 32% expressed dissatisfaction, 13% remained undecided, while 12% say they are dissatisfied that the pace of reform is too fast.
It took three rounds for Ukrainian boxer Oleksandr Usyk to defend the WBO Inter-Continental title.  It was his eighth consecutive victory in professional boxing. Usyk ended all his bouts "inside the distance".
Three Humanitarian Logistical centers are to be established in Donbas before August end, said President of Ukraine Petro Poroshenko.
Four fifth generation F-22 Raptor fighter jets, a C17 Globemaster III strategic military cargo aircraft and nearly U.S. 60 troops arrived at the airbase Spangdahlem in Germany to participate in NATO military exercises to be held in mid-September, according to Ukrainian media citing the BBC USA website.
12 Ukrainians were released from militant captivity, according to Anton Gerashchenko, MP and adviser of the Minister of Internal Affairs.
20% of Ukraine's public debt due to be restructured will be written off, according to the agreement between the Ukrainian government and the ad hoc creditors' committee. However, Russia does not agree to the same terms on a $3 billion debt, taken by fugitive ex-president of Ukraine Viktor Yanukovych. The loan is due to be repaid in December 2015.
Ukrainian grain exports may reach more than 36 million tons this marketing year / Photo from UNIAN
Ukrainian grain exports may reach 36.83 million tons in 2015/2016 marketing year, as projected by the Ministry of Agrarian Policy and Food.
58% of Ukrainians are not ready to experience certain economic hardship, even if it leads to an improvement of quality of life over the long term, according to a study conducted by Rating sociological group.
66 billionaires around the world have become millionaires during the last week of falling stock market, foreign media reported. In particular, 21 billionaires have lost their status in China, 9 - in the United States, 6 – in India, and 5 - in Russia.
91 local councils in Donetsk region and 31 local councils in Luhansk regions were deprived of the possibility of holding the upcoming local elections, the Central Election Commission reported.
The OSCE special monitoring mission has recorded 120 civilian trucks that transported coal to the Russian Federation from the occupied Ukrainian territory.
155 Ukrainian servicemen are being held captive by militants, according to the Security Service of Ukraine. Ukraine is in constant negotiations to free the hostages.
The Cabinet offered the Parliament to lift the ban on privatization of 374 state-owned enterprises of the agricultural sector, including Ukrspirt, monopolist on the market of ethanol, and Artemsil, major salt producing company.
980 Ukrainian women have been awarded the Mother Heroine title, states the relevant Presidential Decree.
Head of the Odesa City police department was arrested while receiving a $20,000 bribe for illegal assistance in resolving the corporate conflict and the establishment of control over property, said Ukraine's chief military prosecutor Anatoliy Matios.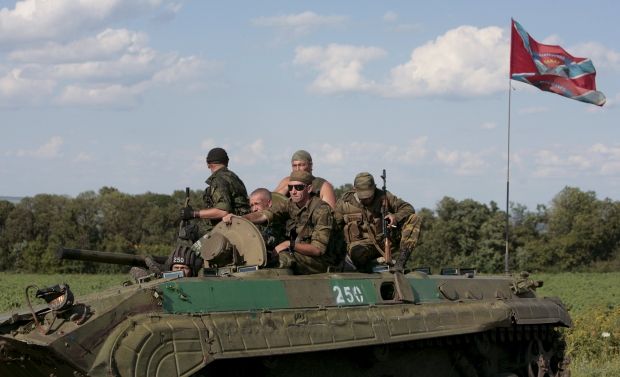 REUTERS
40,000 troops, including 9,000 professional soldiers from the armed forces of the Russian Federation comprise the Russian armed group in the occupied territories of Ukraine, while another 50,000 Russian troops have been massed up near Ukraine's eastern border, said Ukrainian president Petro Poroshenko.
124,000 Ukrainians have applied for citizenship in Hungary, Hungarian media reported with reference to the Office of the prime minister. More than half of the applicants seek getting their passports illegally, according to official Budapset.
477,000 students entered the Ukrainian universities this year, said Serhiy Kvit, Minister of Education. According to the Minister, there are 307,000 first-year students.
Saudi authorities expect to host 1.5 million pilgrims to Mecca this year, local media reported.
UAH 60 million will be allocated for housing of military personnel and border guards in 2015, said the president of Ukraine Petro Poroshenko. These funds are now used for building 14 apartment buildings, nine of which will be completed this year.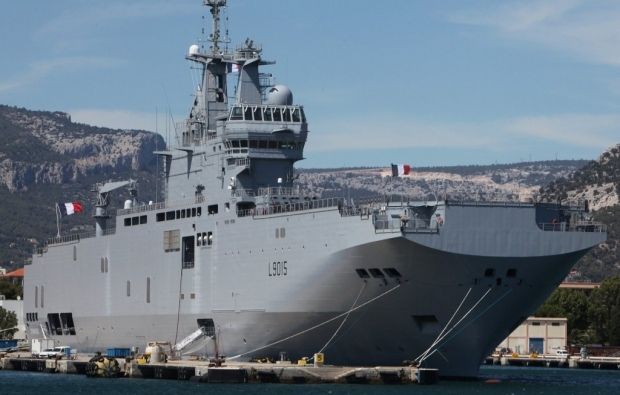 France compensated Russia EUR 950 million under Mistral deal / info-prom.com.ua
France has paid a EUR 950 million compensation to Russia as a result of termination of contract on delivery of two Mistral military helicopter carriers, French media reported.
$97 billion and 10 years may be needed for capital upgrade of Ukraine's infrastructure, as estimated  by UNIAN.
Ukraine's large and medium-sized enterprises (except state budgetary institutions) saw UAH 232.617 billion (before tax) losses in H1 of 2015, according to the State statistics service. The data are presented excluding the temporarily occupied territory of the Autonomous Republic of Crimea and Sevastopol.