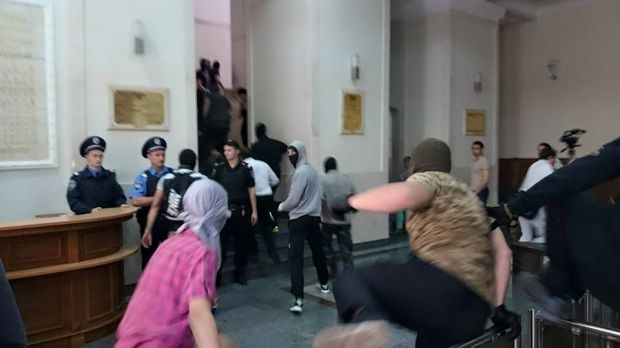 facebook.com/slava.mavrichev
"We're at Kharkiv City Council where a session is taking place now. Prior to that, more than 200 people wearing balaclavas came to the house of Mykhailo Dobkin. Now they've moved to the city council's building and asked [Kharkiv Mayor] Hennadiy Kernes to come out," a TV reporter says.
"There have been several clashes between police and people wearing balaclavas. A few minutes ago, someone released tear gas. The city council's doorway is surrounded by a thick cordon of police. The guys stepped about 20 meters back. No specific demands were announced by the people in balaclavas, but while standing outside Dobkin's house, they said their task was to throw Dobkin away from the city and make everything possible so that Kernes would not become Kharkiv mayor," the reporter said.
Kharkiv journalist Slava Mavrichev wrote on Facebook that masked men had broken into the Kharkiv town hall's building, where they stayed for about three minutes. "They attempted to brawl at Kernes' outer office, broke a telephone set and went away. At the exit, they clashed with police. They had pepper-spray balls with them. They beat a police officer, tore his uniform. Then they quickly got into several buses and left," he wrote.
В горсовете парни в балаклавах были минуты три. Побуянили у приемной Кернеса - разбили телефон - и вышли. На выходе сцеп...

Posted by Slava Mavrichev on 23 сентября 2015 г.