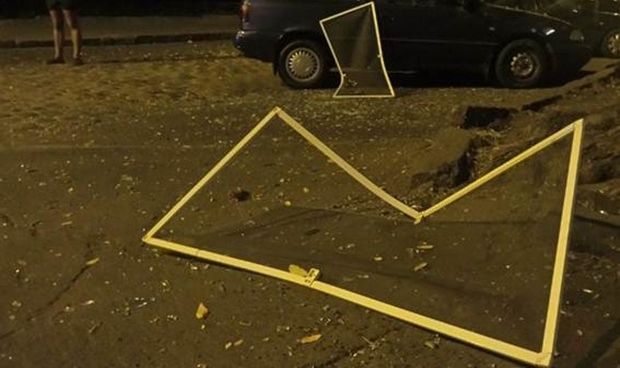 A blast occurred near the SBU's building in Odesa on Sunday morning / Photo from Ukraine's Interior Ministry
"A criminal case has been opened to investigate the incident under Part 2 of Article 258 (an act of terrorism) of the Criminal Code of Ukraine," it said.
A report that unknown persons had activated an explosive device near the Odesa-based SBU office at 43 Yevreyska Street came to local police at about 05:00 Kyiv time on Sunday.
The blast shattered windows and damaged doors and walls of the building. It also damaged the neighbouring residential buildings, offices, stores and a local hospital, which is located 200 meters from to the site of the incident. Cars parked nearby also were damaged. There were no casualties reported in the incident.
The power of the improvised explosive device is equivalent to from five to six kilograms of TNT, according to preliminary conclusions by bomb technicians, the press service told UNIAN.
Materials of the case were submitted to the SBU's office in Odesa region.
Commenting on the incident, the SBU said it did not rule out that the bomb had been planted by a subversive group as revenge for active detentions of separatists and members of sabotage groups in the region.
"The crime may have been committed by a subversive group sent on a special mission. We also do not rule out that it could have been revenge for the fact that in spring and summer this year, the Security Service greatly enhanced activity in the region, and almost cleaned it from saboteurs and separatists," the SBU's press center told UNIAN.
An SBU investigative team from the central department was sent to the site of the incident, it added.