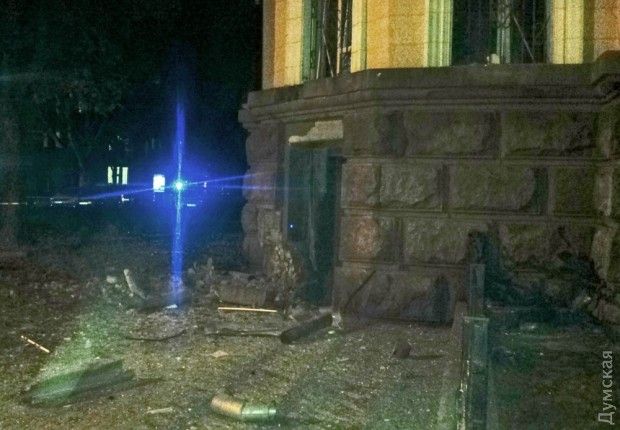 Photo from the scene / Dumskaya.net
"We took it as a challenge and have made every effort to solve the case. Today, I can report - crime has been solved in a short period of time. Three executants have been detained, 22 searches have been conducted. We also have information about those who ordered the crime, who sent guidance to a criminal group from the territory of Russia and Crimea, and they will be brought to justice sooner or later," said the head of the SBU.
The exposed and disarmed sabotage and reconnaissance group, controlled by the Russian special services, is also suspected of complicity in a series of explosions of the administrative buildings and offices of non-governmental organizations in Odessa and Mykolaiv regions.
Read alsoSunday blast near SBU's Odesa office investigated as terrorist attackOn October 19, three residents of Odessa were detained. Activists of the local pro-Russian non-governmental organizations, they were aware of conspiracy tactics, had call signs, used advanced computer technology.
The crime was plotted in the territory of Russia. The person who planted the explosive device, had earlier passed a special commando training at a military center in the Russian Federation.
A clandestine laboratory where radio-controlled IEDs were manufactured had been set up by the attackers in one of the multistory residential buildings in Odesa. Given the real danger to the life of residents of the apartment building, they were evacuated prior to the raid.
During searches, evidence of illegal activities of the detained individuals, firearms and ammunition was discovered. In particular, the search team has found elements of an IED similar to that used in an attack outside SBU building. A large number of separatist-related paraphernalia and anti-Ukrainian materials were seized.
The investigation continues. The suspects are detained.
Read alsoInterior Ministry forecasts "hot" spots in local elections"I appeal to the older generation, to the young people - if you notice individuals behaving suspiciously in public places, on the streets, in public transport, be sure to call the SBU hotline! We will respond immediately and check your information," said the head of the SBU.
The SBU hotline 0800501482 operates 24/7.