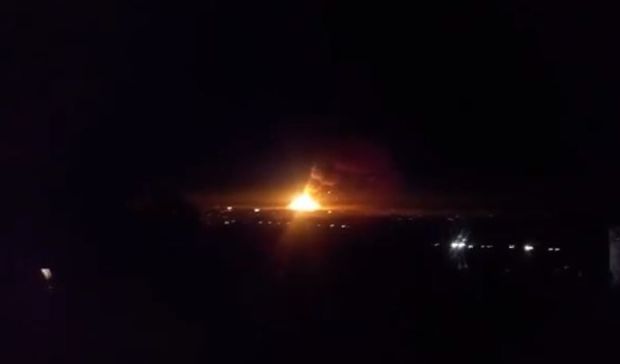 screenshot
"At 19:35 on October 29, a fire broke out at a munitions depot in the town of Svatove in Luhansk region, followed by the detonation of ammunition and scattering of fragments. Two people were killed and four injured as a result of the accident," the report says.
According to Vladyslav Selezniov, spokesman for the General Staff of the Armed Forces of Ukraine, one of the versions of the explosion in Svatove is a terrorist attack.
Read alsoEmergency evacuation under way amid multiple blasts at Svatove munitions depot"The representatives of the General Staff and the ATO headquarters are now working on the scene. The first task is to secure the environment for civilians, and the second task is to find out the reasons and circumstances that led to this tragedy. As of now, we have involved all services and structures in order to solve these two problems. We consider various reasons, including the version of a terrorist act," he said.
@LUGANSK_TODAY
As of 04:00 Kyiv time, the explosions on the territory of munitions depot stopped. Firefighters are trying to contain the fire. The State Emergency Service is carrying out aerial reconnaissance.
Demining experts will be let to the scene after the fire is contained.
It is noted that, according to the Ministry of Defense, about 3,000 tonnes of ammunition was stored in a warehouse.
According to Luhansk Regional Military and Civil Administration, nine five-storey buildings, six four-storey buildings and 20 three-storey houses were damaged as a result of the explosions.
Last Update at 15:19 Kyiv time. The report by the State Emergency Service on two people killed in the incident was updated with the statement by Ukraine's Defense Minister Stepan Poltorak on one person killed.