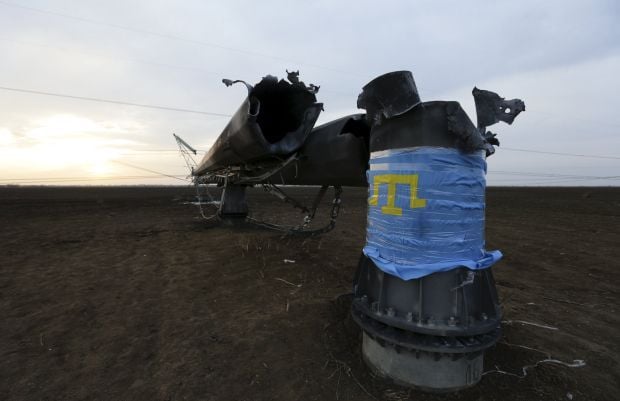 REUTERS
"We have increased and reinforcesd our patrols due to the fact that the Russian troops came close to the demarcation line following damage to power transmission towers [on the administrative border with Crimea]. They deployed Grad multiple rocket launchers in all three directions, in fact," said Ilya Kiva, head of drug enforcement department of the Interior Ministry, according to the website of 112 Ukraine TV channel.
According to Kiva, the Interior Ministry has information that the Russian troops have been put on combat alert.
"We try to be ready ... We know that the Russian troops have pulled up their tanks - about 12 MBTs came close to the demarcation line," he said.
Read alsoDzhemilev: Crimea blockade activists ready to allow repair of two transmission linesKiva said that the Ukrainian paratroopers, in particular, the 79th airborne brigade have also been put in full combat readiness.
Ilya Kiva said that "one of the possible scenarios is that Russia will use the pretext of energy blockade for invasion in Ukraine and advance of the Russian troops deeper in Ukraine's territory."
Read alsoUkrenergo says four days needed to restore power transmission following blasts in Kherson regionAs UNIAN reported earlier, the two out of the four transmission pylons on the administrative border between mainland Ukraine and Russian-occupied Crimea, which were damaged by blasts in the early hours of November 20, were destroyed completely late on Saturday, November 21, according to reports in social networks.
The four transmission pylons belong to the power grids supplying electricity to Crimea and some areas in Ukraine's Kherson and Mykolaiv regions.