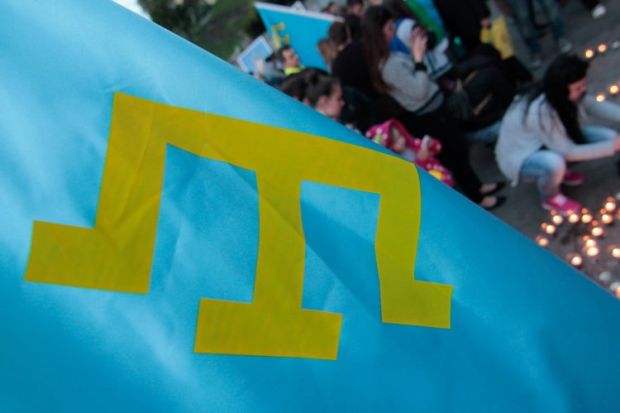 Public figures suggest "restoring the Crimean Tatar autonomy" / Photo from UNIAN
"In the matter of restoration of territorial integrity of Ukraine, we suggest the mechanism be used of the legal personality of the indigenous people of Crimea - Crimean Tatars. It is the restoration of legal personality before the law of the Crimean Tatar people subject to the policy of ethnocide, which will strengthen international pressure on the Russian Federation to provide for the liberation of the temporarily occupied territory of Crimea," said Sinaver Kadyrov, the human rights activist, Crimean Tatar representative of Azatlyk human rights organization.
Read alsoRada recognizes genocide of Crimean Tatars, calls Russia's policy ethnocideHe also noted that despite the statements by the Ukrainian authorities that the Crimea is not forgotten, "we came to a disappointing conclusion that the state has no real program for de-occupation of Crimea," said Kadyrov.
A memorandum was presented at the press conference on the restoration of legal personality before the law of the Crimean Tatar people. The memorandum was signed by several NGOs, including Azatlyk, Anti-Corruption Movement led by former SBU security service chief Valentyn Nalyvaychenko, Peace Council Foundation charitable organization, Millet, Vetan, Qırım, and individual human rights activists.
Read alsoRussian FSB summons Dzhemilev's wife for questioning"Signing this memorandum aims at liberating our Homeland from the invaders and restoring the Autonomous Republic of Crimea as a national-territorial, that is the Crimean Tatar, Autonomous Republic of Crimea as part of a unified, independent and democratic Ukraine," reads the memorandum.
An activist of the national liberation movement Erfan Kudusov noted that the initial establishment of some state authorities of the Crimean Tatar national-territorial autonomy in mainland Ukraine would let them be included in international negotiations.
Read alsoChubarov: Retaking Crimea imminentIn turn, the representative of the charitable organization Peace Council Foundation, Yulia Zaitseva, spoke on the need to amend the Constitution with a special section securing national-territorial autonomy.