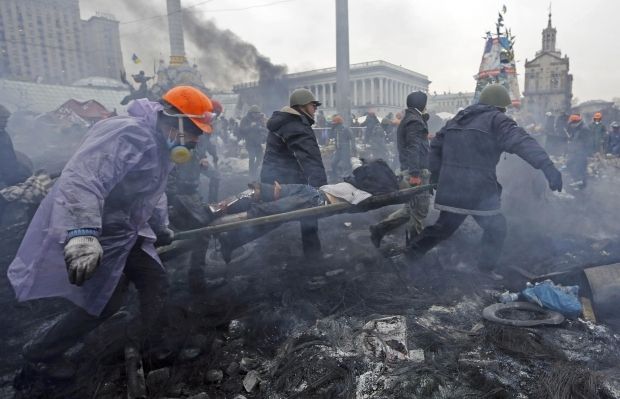 REUTERS
"Accountability has yet to be achieved for the killing of protestors and other human rights violations committed during the Maidan events in Kyiv, from November 2013 to February 2014," the report says.
The authors of the report say "while most of the human rights violations committed during the Maidan protests have been investigated and alleged perpetrators identified, accountability continued to be sought for the killing of protestors on 18-20 February 2014."
Read alsoNo crimes against humanity at Ukraine's Maidan - initial ICC probe says"Indeed, only few perpetrators located and are being prosecuted as the majority have fled Ukraine. None of the former senior officials found responsible have been brought to account for organizing the killing of protestors in January-February 2014," the report reads.
Read alsoUkraine's security officials present full investigation report on crimes against MaidanSimilarly, there has been no progress in ensuring accountability for the death of 48 people (six women and 42 men) during the violence of 2 May 2014 in Odesa, the authors said.
UNIAN memo. In late November 2013, the Ukrainian government's decision not to sign an Association Agreement with the European Union became the root cause for mass protests, the largest in the modern history of the state. In particular, on November 21, 2013, Ukraine's Cabinet of Ministers made a decision to suspend preparations for signing the Association Agreement between Ukraine and the European Union, which was planned to be signed at the Vilnius Eastern Partnership Summit on November 28-29.
After the Berkut riot police violently broke up student protests on Kyiv's Maidan Nezalezhnosti, on the night of November 30, 2013, hundreds of thousands of people poured into the streets in Ukrainian cities to stage mass rallies.
The protests, which lasted from late November until the end of February 2014, were named Euromaidan, Maidan, and later – the Revolution of Dignity.
As a result, the then President Viktor Yanukovych fled to Russia in February, after the mass shooting of unarmed civilians in the center of Kyiv.