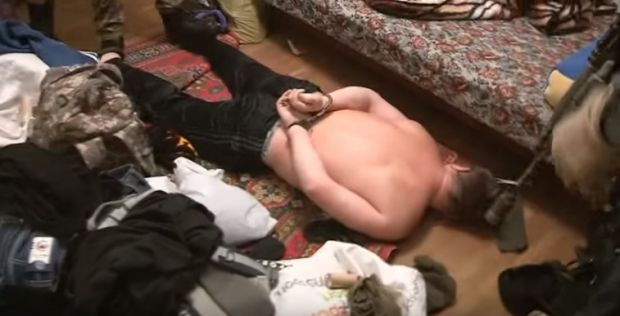 Ukrainian Alfa special force officers detained a terrorist gang with Russian citizens / Screenshot
"The Embassy of Russia has been notified by the Ukrainian side of the detention of the Russian citizens, and is now preparing documents to have access to the detainees," Grishin said.
As UNIAN reported earlier, Ukraine's SBU Security Service neutralized a sabotage and reconnaissance group late on December 9, 2015, during a special anti-terror raid in Kyiv. The group was reported to have a network covering some Ukrainian cities, including Kyiv and Kharkiv. A member of the group resisted arrest by opening fire from an assault rifle and wounded two Alpha special force officers. He was shot dead in response. Later, wounded Alfa officer Andriy Kuzmenko, who participated in the Anti-Terrorist Operation in eastern Ukraine, died from wounds.
SBU spokesperson Olena Gitlyanska said that three Russians and four Ukrainians were among the detained members of the subversive group, while the eighth, a citizen of Ukraine, was killed in the shootout during the raid.
SBU investigators opened a criminal case in keeping with Articles No. 258 and 258-3 of the Criminal Code of Ukraine.