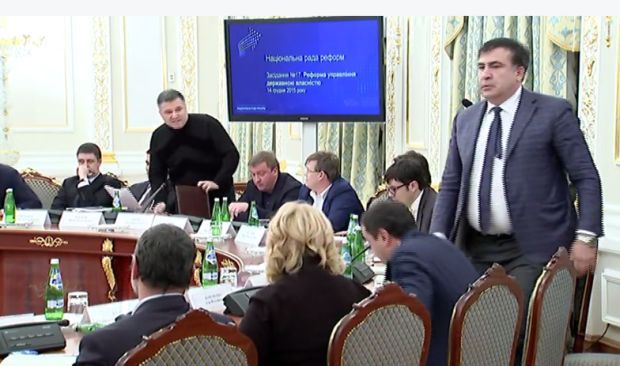 Video screenshot
"Everyone who is interested: here is the footage of the quarrel with Saakashvili, which was provided by the Presidential Administration at my request. You can watch this full-length video. There's little beautiful in it, but with the current scale of public discourse and mainly the motives behind it, it's important that every person could see what it is about. It's a shame to hide the truth. And to try to look better than you are," Avakov wrote on Facebook.
As was reported earlier, Avakov quarreled with Saakashvili during the Monday meeting and threw water in his face.
Saakashvili later wrote on Facebook that he demanded that the Presidential Administration's press service make the footage of the incident public. He said that both the interior minister and the prime minister had behaved "in an undignified and provocative way."
Пост нулевой толерантности. Нулевая толерантность? - это стопроцентная правда, и моя открытая точка зрения без социал...

Posted by Арсен Аваков on 16 декабря 2015 г.