president.gov.ua
"This scout tradition has existed for many years already, but it is the first time when the Peace Light of Bethlehem was handed to the Presidential Administration of Ukraine," the report says.
While handing the Peace Light to the icon lamp of Petro Poroshenko, Member of the National Supervisory Board of Scouts Andriy Luzan said: "We urgently need peace and that is why we brought this symbol of peace to you, Mr. President."
president.gov.ua
The Head of State wished this light to add up faith in the better future for everyone. According to the President, Europe has been uniting on the eve of Christmas for over 30 years due to this tradition. Ukraine, as part of European civilization, joined this tradition after the fall of the Soviet Union.
"Let this light be lit in the houses of Chernihiv and Crimea, Zakarpattia and Luhansk. Let it demonstrate unity of Ukraine and bring peace to all these houses," Poroshenko said.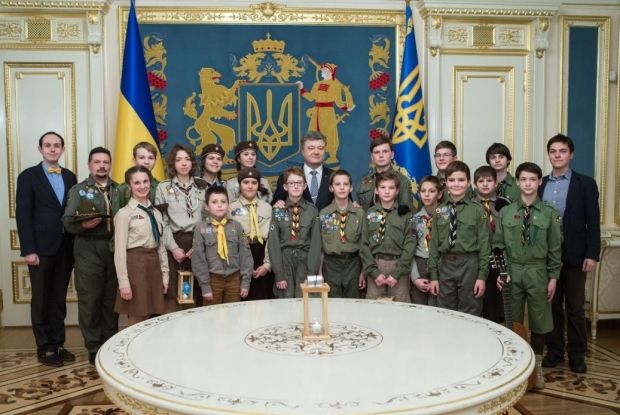 president.gov.ua
"You will now bring this light to a series of state institutions. With you permission, I will also make a contribution to the spread of this light. We all must pray for peace to come to Ukraine next year and for Ukraine to regain its territories and become a few important steps closer to Europe," he said.
"I would like to express gratitude to scouts for the Ukrainian position, for the fact that over 100 scouts are now in the ATO area and for the demonstration of unity of the Ukrainian nation," the President noted.