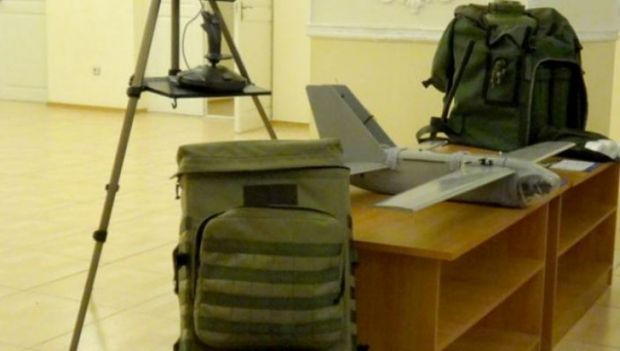 Photo from KPI
Ukroboronprom State Concern, which unites the country's major defense companies, will supply Spectator UAVs to the Ukrainian military by the end of 2015, according to the company's statement.
"The Ukrainian military will receive a modern unmanned aircraft systems "Spectator" until the end of 2015. The UASs consist of a ground control station and three unmanned aerial vehicles," reads the statement.
It is also noted that these drones can hardly be detected due to their size. The electric propulsion system produces little noise. Max altitude is 2 km, speed – up to 120 km/h, duration of continuous flight – up to 2 hours, according to the report.
"UAV requires no special requirements to the launch pad or additional hardware for take-off - it can even be launched from the hand. The device can be additionally equipped with 10x zoom day/night vision camera, thermal and multispectral cameras, high definition camera, background radiation sensor, and other add-ons," says the statement.
Read alsoUkroboronprom unveils 'Dozor' APCsUkroboronprom also stressed that the Spectator can also be used for civilian purposes: to explore and monitor water environment and forests, oil and gas pipelines and the state border. It can also be used for aerial photography, search and rescue operations.
The ground station BPAK transmits and receive signals at a 30km distance. Command and telemetry channel transmits information about the positioning, flight parameters and coordinates of targets, providing programming of the automatic control of a UAV.
Read alsoUkroboronprom posts UAH 1.6 bln net profit in nine monthsAs UNIAN reported earlier, Ukroboronprom intends to develop two new types of self-propelled guns in cooperation with the Polish-based Huta Stalowa Wola, on the basis of armored vehicles produced in Ukraine. One of the projects is a 120-mm self-propelled mortar on the chassis of the BTR-4E APC, and the second is a 155-mm self-propelled howitzer on the chassis of the BM Oplot MBT. In addition, the company plans to introduce an upgraded Kolchuga radar system in 2016.
UNIAN's memo. State-run Ukroboronprom Concern was established in 2010 to ensure effective operations and management of state-owned business entities that develop, manufacture, sell, repair, modernize and scrap weapons, military and special equipment and ammunition, and participate in the military and technical cooperation. The Concern incorporates over a hundred enterprises of Ukraine's defense industry.