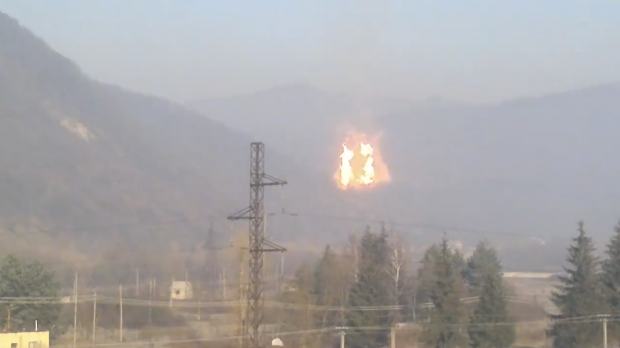 A gas pipeline exploded near the west Ukrainian town of Khust on January 1 / Video screenshot
The loss of containment (LOC) of the Soyuz pipeline whose diameter is 1.42 meters and rated pressure is 65 atmospheres was reported in the area near a bypass road in the town of Khust, western Ukraine.
The underground LOC of the pipe was registered by monitoring equipment at 09:55 local time in the morning on January 1, the press service said.
Gas leaked under pressure and ignited from a random spark at 12:03 local time on Friday. "The blast formed a pillar of fire of up to 50 meters high, which was seen from villages in nearby districts in the region," the press service said.
Emergency crews of the Ukrainian operator of the main gas pipeline arrived at the scene, closed the valves of the gas pipeline along the damaged stretch to prevent access of new gas.
As of 14:00 local time, most of the gas in the pipe burnt itself out and the pillar shrank to 10 meters in height. Residual gas pressure was about 0.5 atmospheres.
"The accident hasn't become the cause of fatalities, large-scale destruction or threats to the environment," Zakarpattia governor Hennadiy Moskal said.
He added that none of the towns and villages in Zakarpattia had been disconnected from the gas supply, and the situation was under control.
As soon as the residual gas in the pipeline completely burns itself out, the emergency crews will be able to examine the damaged pipe and determine the cause of the accident, the press service said.