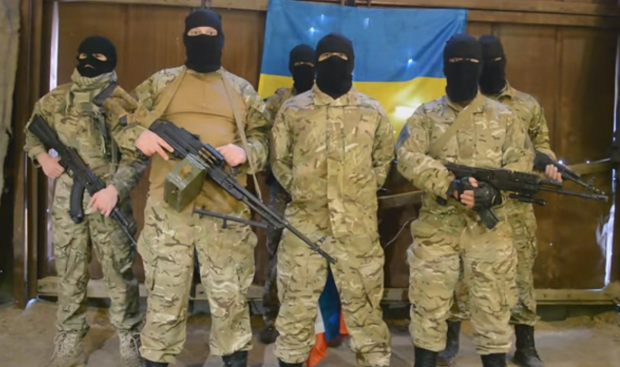 Screenshot
"In the video, unidentified individuals call to violence against the Netherlands on behalf of Azov. This video is a pathetic provocation and a poor-quality fake that has nothing to do with our battalion," the Azov commander claimed in a video response on an official YouTube channel of Azov, denying any involvement in the fake appeal.
The video was posted on the newly created fake You Tube channel, though it was designed in order to create the impression of an official request of Azov regiment, he said.
"Anyone who is familiar with weapons will see immediately that the actors hold airsoft weapons, so it's not real, while their acting is set-up and low-quality," the statement says. "Unlike these actors, Azov fighters are well-trained soldiers who will never hold weapons like the actors do in this cheap video." 
The regiment stresses that it "stands for the pro-European position, and neither threatens civilians in Europe, nor gets engaged in a circus with the burning of flags of civilized states."
Read alsoEC comments on Juncker's statement regarding Dutch referendum on Ukraine-EU Association"It is hard to say what aim the directors and clients of this manipulating video had in mind, but we kindly ask everyone get information from the official sources rather than believe provocations. All video addresses of Azov are posted exclusively on Azov media's official channel," says the official address by Azov regiment.
The message of the unidentified people on the , which Azov denounced, says: "The reluctance of the Netherlands to sign the Agreement and the lack of response to this provocation from our government compel us to act independently. If the Netherlands does not support the Agreement, we will start to operate. In this case, Dutchmen have no place in our land. We will do everything not to have them here, and we will destroy everyone who hinders us. We have our guys in the Netherlands, and they are ready to obey any order. We demand that the Netherlands adopt the Agreement in a month."