The first-ever egg-shaped coin issued by the Royal Canadian Mint / Image from mint.ca
"This is the first-ever egg-shaped coin issued by the Royal Canadian Mint," the UPNS wrote on Facebook on Saturday.
Designed by Canadian artist Ann Morash, this coin captures the intricate beauty of a pysanka. Every element on this Ukrainian Easter egg is rich with symbolic meaning, including the individual colors: yellow stands for youth and purity; red represents the joy and passion in life; green is the color of spring, which brings hope and renewal; and black suggests the darkest time before dawn, and the idea of eternity.
mint.ca
When combined, these colors—and the motifs they enhance—result in a design that is open to many interpretations, but that is nonetheless a vibrant celebration of a full and colorful life. At the top and bottom of the egg are large flowers, which symbolize love, goodwill and the beauty of nature; these are framed by bands of waves that speak of water's life-giving properties, and the idea of eternity. Beneath the waves at the top are stylized depictions of the sun and stars, which symbolize life, fortune and growth; a re-interpretation of these also appear in the center, where they alternate with evergreen boughs that represent eternal health and youth.
Its weight is 31.39 g, the diameter is 45 mm long and 33 mm wide. The face value is C $20.00.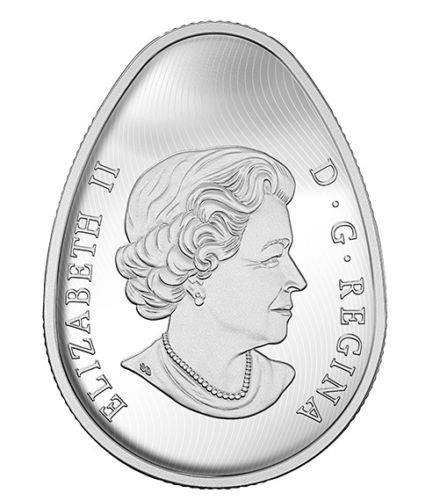 mint.ca