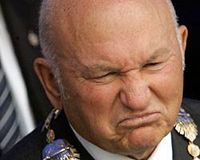 "Sevastopol had never been passed to Ukraine during times of the Soviet Union", says Mayor of Moscow Yuri Luzhkov, Echo of Moscow reports.
According to his words, he studied all the documents carefully and made this conclusion.
Moscow's Mayor said recently at the celebration of anniversary of the Black Sea Fleet that the issue of belonging of Sevastopol remained unsettled. After these statements Ukrainian authorities banned entry to Ukraine for Y. Luzhkov.
At the same time, one of the leaders of the Ukrainian Foreign Ministry, Vassyl Kyrylych said today again that 'the Black Sea Fleet should be removed from the territory of Ukraine in 2017 and it can not be the subject of haggle", noted the radio station.