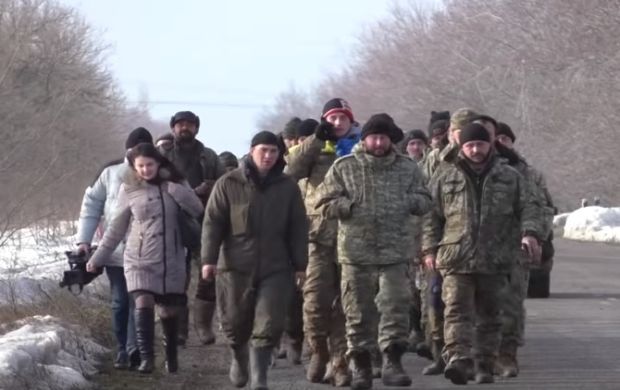 Screenshot from video
According to the press service of the military prosecutor's office of the Southern region, the proceedings were initiated on February 8 upon the claim filed by the military who had walked all the way from the training ground to Mykolayiv, outraged by the terrible conditions: "The military say they have lost hope that the command solve these problems, and headed to the prosecutor. Having learned of the developments, their commanders and officials have somehow found the way to find the bus and feed the troops."
After a meeting with the troops late Monday, the chief officers of the military prosecutor's office went to the training ground to check the information.
According to prosecutors, the complaints related to living conditions at the range, the pay, the days off, the commanders' respect to the subordinates, etc.
Nearly 30 soldiers and commanders of the military unit were interviewed at the scene, and the inspection started.
Read alsoRussian soldier wounded in Debaltseve awarded Swiss hand watch by Def. Min.: mediaIt was revealed that, after the redeployment of military, the logistics service failed to organize a timely reception and placement of the troops in accordance with the requirements of the military statute, while the commanders have not taken steps to create normal living conditions for their subordinates. In particular, nearly 60 troops were supposed to sleep in a tent intended to house only 20 soldiers, according to the prosecutors' report.
The commanders boosted required activities during the prosecutors' visit, the report says.
Read alsoRussia sets for deploying in Syria large landing ship seized from Ukraine in annexed Crimea - mediaAs UNIAN reported earlier, 46 soldiers of the 53rd mechanized brigade, now stationed at the Shyrokyi Lan training ground, have walked to Mykolayiv on February 8 to complain to the military prosecutor on the poorconditions of their service after redeployment.