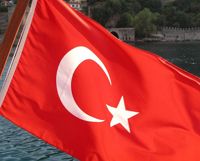 Turkey is ready to sign agreement on establishing visa-free regime with Ukraine.
According to an UNIAN correspondent, Speaker of Grand National Assembly of the Republic of Turkey Koksal Toptan said this in the interview to journalists in Kyiv.
According to his words, this issue has to be solved at the governmental level.
In his turn Speaker of the Verkhovna Rada of Ukraine Arseniy Yatsenyuk stressed that as for today there are no obstacles in the issue on simplified visa regime because the Turkish parliament recently ratified the agreement between Ukraine and  Turkey on readmission.
He underlined that the ratification of this treaty will allow to intensify the negotiation process concerning visa-free regime.
A. Yatsenyuk added that the Ukrainian side passed to their Turkish counterparts draft of the agreement on simplified visa regime  on May 16.
He noted that the Foreign Ministry of Ukraine waits for the second round of negotiations and expressed hope that all efforts are applied to signing this treaty.